Jim Webb Vs. 'Humanitarian Intervention' (and the Clock)
The dark-horse candidate takes on the administration and the Clinton record, as few watch.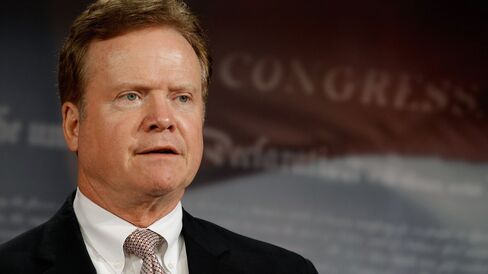 If the advantage of being a front-runner is getting the rest of the world to adapt to your time, the curse of the dark horse is living by other peoples' stopped clocks. On Monday morning, after a weekend that saw a substantial press corps descend on Arkansas to cover the Clinton family's 2016 plans, former Virginia Senator Jim Webb found himself in a Hyatt basement ballroom, waiting to address a Washington meeting of Economists for Peace and Security. And waiting. And waiting.
Webb, who has not ruled out a 2016 presidential campaign, was scheduled to speak at 11:30. At that time, as a panel on trade and jobs dragged on, Webb was sitting in a corner, his London Fog topcoat bundled on the same table as a rapidly depleting coffee carafe. The panel dragged on as people recognized him, bent over and handed him their business cards.
Webb didn't get to take the stage until 11:55. "I was told to be here by 11:15," he said, pre-apologizing for truncating his speech. Over 15 minutes, he boiled down the argument he's been making in Washington and in Iowa, about an America that had "fallen into that Pandora's box of the killer of empires" by over-committing and occupying in the Middle East and Arab world.
Webb focused his criticism of the Obama administration's policies on the 2011 Libyan intervention, which happened to be closely identified with the leadership of then-Secretary of State Hillary Clinton. "It was not a civil war," he said. "The logic that we used to go in was different than any situation that I can remember in terms of the use of force. There were no treaties at risk, there were no Americans at risk, there were no terrorist attacks coming out of Libya ... in the name of what was called 'humanitarian intervention'–this was the new concept that was enunciated–we established a new concept that the president can unilaterally decide what humanitarian conditions are, anywhere in the world."
When Webb wrapped, his fellow former Republican, Michael Lind, asked him about the difficulty of explaining actual policy and strategy choices to the average voter. "It's very difficult for any administration to engage with Iran without being criticized," said Webb, by way of an example. "I'm not saying we should completely trust them, but I'm certain we should be having that discussion."
Why did Webb's old colleagues in the Senate fail to discuss these matters sensibly? "It's very difficult for many people who've been elected for reasons other than foreign policy reasons to go through this kind of a drill," he said. "You need clear talking-point kind of advice for them, so they don't go out and make a mistake in public ... they defer to the administration so they don't have to enter into very complex debates."
The only quasi-praise Webb had for the Obama administration came when he discussed its plans, punted after the election, to ask Congress to authorize continued action against the Islamic State. "It's a very smart move, finally, for the president to say he wants a vote of Congress to say what we're going to do with ISIS," he said. In a short conversation after the speech, Webb declined to dictate what Congress should ask for.
"The administration should come forward, to the Congress, with the rationale for continuing to do so," he said.
I asked Webb what he'd made of the confused presentations that the Defense Department made the previous week, and the confused response of Congress.
"Presidents need to lead!" said Webb. He punctuated that line with a loud, sharp laugh.
Before it's here, it's on the Bloomberg Terminal.
LEARN MORE