Should Democrats Obstruct or Compromise?
Senate Democrats weigh their options as the incoming minority.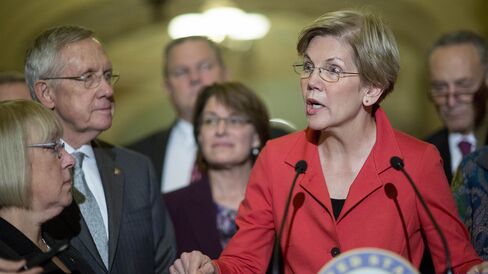 To obstruct or not? It's the question churning inside the Democratic Party after its historic Senate losses a week ago. Add to that a secondary one: Just how much legitimate, ideological resistance to Republican proposals will voters tolerate?
"The reason for Democrats to filibuster isn't obstruction for its own sake. It's to stick up for millions of everyday people who will be harmed by right-wing politics," said Adam Green, co-founder of the Progressive Change Campaign Committee. His sinking fear is that Democrats will play it too safe and lose anyway. "Is the theory about winning in 2016 that passing Republican bills that hurt Americans will do it?"
Senator Tim Kaine, a Democrat who represents swing-state Virginia, advocates a more nuanced approach. "I came here to do stuff. I didn't come here to novel-y figure out new ways not to do stuff. I'm just going to be looking for partners to find solutions. I'm sure that a Republican majority will have some things they want to do that I don't want to do, but my goal is not to obstruct them. I'll probably vote no if I don't like it. But I hope and I fully expect" that "we'll be able to find a number of areas" for compromise.
Those intraparty calculations were evident Thursday when Senate Democrats tapped a hero of the progressive movement and leading critic of Wall Street, Senator Elizabeth Warren of Massachusetts, as the caucus' strategic policy adviser, while making Jon Tester of Montana, a proponent of the Keystone XL pipeline project who has bragged about how he would cross party lines to help Republicans fend off filibusters, chairman of the Democratic Senatorial Campaign Committee. That means Tester's prime mission will be to recruit and helped elect enough senators in 2016 to retake the majority.
Senate Democratic Leader Harry Reid of Nevada, who will stay on as minority leader despite divisions within his caucus' ranks, is taking the high road—for now. "I do not intend to run the Democratic Caucus like the Republican Caucus has been run in the minority. I am not going to do that. We want to legislate. We're not for stalling. We want to move on to the next Congress with a record of accomplishment."
Despite those assurances, at least five senators who voted in a secret ballot against his re-election as their caucus leader made their objections public: Joe Manchin of West Virginia, Claire McCaskill of Missouri, Mark Warner of Virginia, Heidi Heitkamp of North Dakota and Mary Landrieu, the Louisiana senator who faces a Dec. 6 runoff.
Democrats have many factors to consider as they seek a balance between serving the demands of a liberal base, middle-class voters and a shrinking fan base among the white working class. "Each cycle the voters have been saying, 'Please change,'" Democratic pollster Peter Hart said Thursday at a breakfast panel organized by the Wall Street Journal. "I think if the perception is that this is another cycle where nothing gets done and there's 'gridlock,' I think the voters will once again try and look for somebody that is going to provide a sense of the coalition, a sense of being able to work across the party aisle." Assuming she runs for president, Hart said, "I wouldn't be surprised if Hillary Clinton in 2016 talks more about her Senate record and her ability to work within the congressional dynamic than she does about her secretary of State's record."
While progressive activists praised Democrats' move to elevate Warren, they are fretting over how the leadership will respond when faced with Republican legislation they oppose on taxes, health care, Social Security and the environment. "The reason voters didn't vote was because Democrats didn't stand for a big, bold, populist agenda like the one Elizabeth Warren is pushing Democrats to adopt," Green said.
"There is some tension," he added. "The large majority of the Democratic caucus agrees we need to fight but there are certainly some that crazily believe voters want Washington to pass something—anything—even if it means cutting Social Security for Grandma."
Republicans, who went through their own Civil War between the Tea Party and business wings of their base coalition in the run-up to the 2014 midterms, are monitoring the debate with bemused curiosity.
The move with Warren shows that Reid is "worried about his left flank," said Senator Lindsey Graham, a South Carolina Republican. "We've had people drive our party into a ditch at times. Nobody likes being in the 'right' ditch; I doubt they're going to like being in the 'left' ditch. My belief is that people on the Democratic side are probably going to get the message from the election that working together is good politics."
"If Harry Reid continues the pattern of the last two years, then we would have to assume he will use every tool available to obstruct and shut the Senate down," said Senator Ted Cruz of Texas. "If, however, Senate Democrats heard the message of the voters on election day, which is they were tired of a U.S. Senate under Democratic control that does nothing and that ignores the priorities of the American people, then they won't obstruct."
Michael C. Bender and Kathleen Hunter contributed to this report.
Before it's here, it's on the Bloomberg Terminal.
LEARN MORE