Lame-Duck Congress Becomes Obama's Immigration Battleground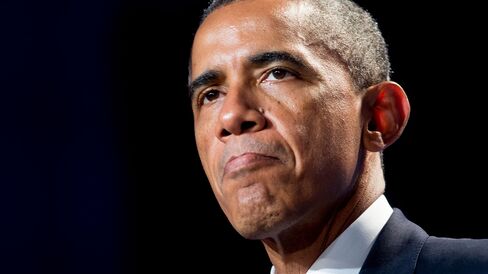 President Barack Obama and congressional Republicans are turning a lame-duck session of Congress into a battle over immigration, with the legal status of as many as 5 million immigrants, a possible government shutdown and the 2016 presidential race hanging in the balance.
A top Obama adviser, John Podesta, brushed aside the threat of a congressional cutoff of government funding, suggesting the White House wouldn't give in and the gambit would backfire on Republicans.
"If they want to shut the government down, God love 'em," Podesta said today.
Details of Obama's plan to halt deportations of some undocumented immigrants began leaking just as a group of Republicans in Congress vowed that they would try to block funding to implement the order. If that holds up a spending bill, the federal government would have to cease many of its operations on Dec. 12.
Obama is in the final stages of crafting a plan that would provide relief from deportation to many undocumented immigrants who are parents of U.S. citizens and possibly also parents of legal resident and immigrants brought to the country as minors, said people familiar with administration planning.
2012 Order
Obama may also use his executive authority to expand an order he issued in 2012 that staved off deportation for qualified undocumented immigrants who came to the U.S. as minors, said the people, who spoke on condition of anonymity to discuss internal deliberations.
Obama made clear again today that he's determined to act on immigration. "It's going to happen before the end of the year," he said at a news conference in Yangon, Myanmar, the second of three stops on a weeklong trip to the Pacific region.
The prospect of executive action on immigration set off a confrontation with Republican lawmakers and raised the possibility of another shutdown of the federal government.
"All options are on the table," House Speaker John Boehner told reporters yesterday in Washington, while declining to say what Republicans might do. "We're going to fight the president tooth and nail on this if he continues to go down this path."
Spending Bill
Boehner spoke as a bloc of House and Senate Republicans are pushing to use spending legislation to block Obama from easing immigration policies unilaterally, a mechanism the party used last year to shut down the government. Obama has said he will use executive orders to revise immigration policy by the end of the year unless Congress moves forward with legislation.
"There is a debate raging on," said Representative Matt Salmon of Arizona, who along with Senator Jeff Sessions of Alabama has been pressing fellow Republicans to ensure legislation to fund the government denies money for actions in a potential immigration executive order.
Texas Republican Senator Ted Cruz's insistence on using a government spending bill to defund Obamacare led to a 16-day partial government shutdown in October 2013. Approval of Republicans in public opinion polls plummeted as a result.
Obama is trying to "bait" the House into a fight that risks a government shutdown, Republican Representative Tom Cole of Oklahoma told reporters today. Taking the bait would be a losing strategy for Republicans, Cole said.
Private Meeting
Boehner told fellow Republicans during a private meeting yesterday that he doesn't want a federal shutdown, no matter what happens with a spending bill, Representative Peter King of New York told reporters.
Obama challenged Republicans to act on their own, blaming their inability to move on the issue for forcing him to act unilaterally.
"I would advise that if in fact they want to take a different approach, rather than devote a lot of time trying to constrain my lawful actions as the chief executive of the U.S. government in charge of enforcing our immigration laws that they spend some time passing a bill," he said in Yangon.
The president hasn't made a final decision on the immigration actions, said a White House official who asked for anonymity to discuss private deliberations. More recommendations are still coming from the Department of Homeland Security, the official said.
Reports that Obama was getting a plan ready for after he returns from Asia next week stirred a furious response from congressional Republicans. Fox News and the New York Times both reported that an announcement could come as soon as next week, something the White House has declined to confirm.
Republican congressional leaders, including Senator Mitch McConnell of Kentucky and Boehner, warned Obama at a White House meeting last week that he would poison relations unless he reversed his plans.
'Naively Hoped'
"I had maybe naively hoped" Obama would be ready to work with Republicans after the election, McConnell, who takes over as Senate majority leader in January, told reporters yesterday.
Jeff Sessions, an Alabama Republican in line to become chairman of the Senate Budget Committee, is urging his party to use the threat of a cutoff of government funding to block a move by Obama on immigration. Fellow Republicans are "baffled" by Obama's actions, he said.
"The things they're seriously upset with the president about, it seems they're just doubling down on," Sessions said.
A potential provision permitting undocumented immigrant parents of citizens and legal permanent residents to stay in the U.S. and receive work authorization would affect 3.3 million people who have been in the U.S. illegally at least five years, according an estimate by the Migration Policy Institute, a research group in Washington.
1 Million More
An expansion of eligibility for the deferred action program Obama already established for undocumented immigrants who arrived as children could provide a reprieve from deportation for more than 1 million additional people.
Final details in the eligibility criteria the White House sets could expand or shrink the number of people covered by millions.
Some pro-immigrant groups welcomed the action while saying it doesn't go far enough.
"It seems there are a lot of families that will be left out of this, and this doesn't take into account the people deported that Obama recently said should not have been," said Erika Andiola, Co-Director of Dream Action Coalition.
Obama "has broad authority, and could go big and offer deportation relief and working papers to many more than just a few million."
An estimated 11.7 million undocumented immigrants are in the U.S., according to the Migration Policy Institute.
House Democrats reiterated their calls for Obama to take executive action on immigration. Representative Luis Gutierrez of Illinois told reporters that 115 House Democrats signed a letter to Obama seeking an order to stem deportations.
Republicans are split on immigration policy, with some who say the party must temper its stance against undocumented immigrants in order to avoid alienating the nation's growing Hispanic population. Others consider undocumented immigrants to be lawbreakers who don't deserve what many label amnesty.
Salmon has gathered about 60 House Republicans' signatures for a proposal barring federal funds for work permits and residency cards under a presidential executive order.
"The Congress has the power of the purse and should use it as a tool to prevent the president from implementing policies that are contrary to our laws and the desire of the American people," Salmon wrote in a letter yesterday to House Appropriations Committee leaders.
House Appropriations Chairman Hal Rogers of Kentucky urged his colleagues to back off a spending-bill confrontation over immigration.
Not 'Prudent'
"I just don't think it's very smart, wise or prudent to talk about a shutdown scenario," Rogers said. It didn't work last year and wouldn't work again, he said.
Before it's here, it's on the Bloomberg Terminal.
LEARN MORE