Hillary Cracks Nuts—Get it?
The return of a political tchotchke that wasn't tasteful then and is even worse now.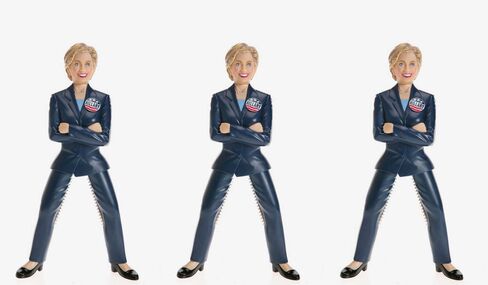 "Stainless Steel Thighs!" the box cries, at waist level. "Cracks tough nuts!"
Urban Outfitters first sold a Hillary Clinton nutcracker in 2007: in blue pantsuit and pearls, she kept her arms permanently crossed, and her legs wide open. It wasn't tasteful then and, now that at least some of us are seven years older and wiser, is even worse now. The store's website bragged the "deadstock collector's item is only available in a limited supply." It's sold out now. Pity.
Any millennial must remember when Urban Outfitters first landed near them, mastering the look that screams high-class thrift-shop. Its particular trend-spotting is on a roll lately: this sexist gag, and worse. In September, Urban Outfitter released a Kent State University sweatshirt speckled with decoration that distinctly resembled blood stains. (In 1970, National Guard soldiers killed four students and injured an additional ten at Kent State University).
But maybe consumers have just been late to catch on. The nutcracker is perfectly in keeping with the political views of the chain's CEO. In 2008, the president and founder of the store donated $13,150 to Rick Santorum's campaign. The store has only two women on the board of directors—one of whom is Hayne's wife, Margaret. The store's gotten rich off of us, and little by little, the public is catching on to its morally bankrupt wares: clothes that demean Jews , blacks, the Navajo Nation, and more. It's even gotten Miley Cyrus mad.
HillaryNutcracker.com posts a notice from the manufacturer, Eagleview USA Inc., that the website is temporarily closed. It expects to reopen "with the 2016 model upon the official announcement of her next Presidential campaign." The rest of us are waiting for the cry of her political bugle cry. Eagleview seems to be waiting on a patent for a corkscrew Bill—guess where the 'worm' comes out—too. Hopefully they'll be waiting forever.
Before it's here, it's on the Bloomberg Terminal.
LEARN MORE