Ukraine Crisis Risks Spinning Out of Control, Power Says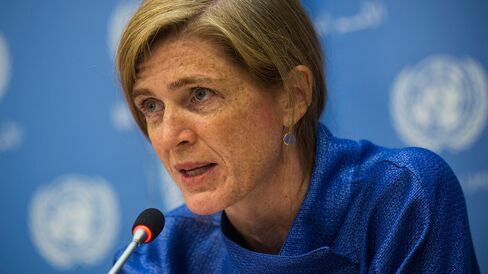 The Ukrainian conflict may spiral out of control, a top U.S. diplomat said, as European leaders remained split over imposing deeper sanctions on Russia for backing a separatist rebellion in the former Soviet republic.
Russia must stop violating a Sept. 5 cease-fire agreement signed in Minsk, Belarus, Samantha Power, U.S. Ambassador to the United Nations, told journalists yesterday, citing a growing number of military convoys in Ukraine's rebel-held regions and increased shelling of the Donetsk airport. Ukraine's foreign minister said his country is prepared to defend itself after NATO warned Russia was sending combat troops across its border. Russian President Vladimir Putin denies military involvement.
"Is there a risk that the situation is getting out of control? Yes, there is that risk," Power said. It's "an extremely worrying period."
The conflict is threatening to return to the open warfare seen before the shaky truce was signed, with Ukraine's government and pro-Russian separatists accusing each other of preparing for new assaults. More than 4,000 people have died since the fighting began in mid-April, according to UN estimates, in what has become the worst geopolitical standoff between Russia and its former Cold War foes since the Iron Curtain fell 25 years ago.
Ukraine Ready
The self-proclaimed Donetsk People's Republic called for an immediate meeting of the Minsk group yesterday, which includes representatives from the rebels, the Organization for Security and Cooperation in Europe, Ukraine, and Russia, the DPR's representative in the talks, Denis Pushilin, said in a statement on the group's website. Earlier in the day he said a new meeting could take place in 10 days.
"The situation on the ground is very tense," Ukrainian Foreign Minister Pavlo Klimkin said in an interview with Bloomberg Television yesterday. Asked whether he expects an attack, Klimkin said: "We are of course prepared."
While European Union governments are discussing new actions, they will limit any near-term moves to asset freezes and travel bans on additional Ukrainian separatists, according to EU officials and a planning document.
The bloc's foreign-policy chief, Federica Mogherini, said a Nov. 17 meeting of national ministers will consider the blacklisting while putting off a discussion of tougher economic measures until next month's summit of leaders.
Rebels Killed
The hryvnia gained more than 2 percent to 15.53 against the dollar at 5:28 p.m. in Kiev yesterday, according to data compiled by Bloomberg. The ruble lost 2 percent and was trading at 46.48 per dollar.
Russia will send 82 aid trucks to eastern Ukraine tomorrow, Alexander Lukashevich, spokesman for the Foreign Ministry in Moscow, said in a televised briefing yesterday.
Ukrainian troops killed as many as 20 rebels and destroyed about 10 separatist military vehicles near the city of Horlivka in Donetsk region yesterday to prevent an attack on the town of Dzerzhynsk, the Defense Ministry said on Facebook.
In the Ukrainian capital Kiev, military spokesman Andriy Lysenko said fighting was escalating in occupied areas. Shelling by pro-Russian rebels at government troops was most intense in the Luhansk region, he said.
Expanding EU sanctions is difficult as they require unanimity among the 28 governments, reducing the prospects of new decisions on Monday at the first foreign ministers' meeting led by Mogherini.
Widening the list of names could backfire, Mogherini said. "The main separatist leaders are already listed" and "the targeted separatists could be at some point agents in the implementation of the peace plan," she said in the letter.
Before it's here, it's on the Bloomberg Terminal.
LEARN MORE