Congressional Dysfunction Soars in Post-Election Return
It's the beginning of the end for a lame-duck Congress.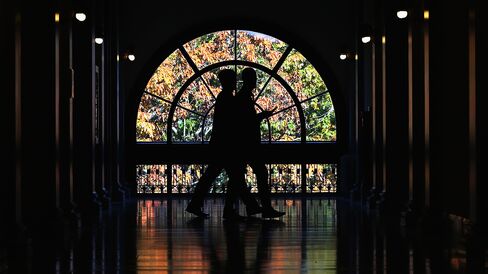 This story contains corrected material, published Nov. 13, 2014
A week after the election, and all the promises of compromise and working together, Congress returned to Washington and fell into many of the same old patterns. The two parties' top senators talked past each other. Republicans and Democrats alike expressed hostility toward President Barack Obama. Wealthy donors gathered behind closed doors to plot for the next election. And there was one senator still fighting for re-election from the chamber floor.
To open the day—and the final weeks of legislating before the new Congress is sworn in—outgoing Senate Majority Leader Harry Reid and his likely successor, Mitch McConnell, were already looking to next year. Reid, a Nevada Democrat, said he'd work in "good faith" with the new Republican majority. McConnell, a Kentucky Republican, said it was time to "move forward together, not to double down on the old ways of doing business."
Then they both made sure to get in some shots. "Republicans outside this building don't object to giving American workers" a higher minimum wage, more student debt relief and equal pay for women, Reid said, a dig at Republicans in the building who haven't backed those Democratic proposals. McConnell said Democrats need to "respect a message sent last Tuesday" in the midterm elections.
While Reid and McConnell sparred, one of the few people present in the chamber was Louisiana's Mary Landrieu, who sat alone at her desk as the lame-duck session of Congress was getting underway. The three-term Louisiana Democrat, facing long odds to return for a fourth, had essentially one hand left to play—and she did so with a flourish. She made a passionate, if not desperate, entreaty to her own reluctant party to stop blocking a plan to force approval of the controversial Keystone XL pipeline. The project is opposed by the Democrats' environmental base and has effectively been delayed by Obama's inaction. Yet its also deeply important to voters in Landrieu's home state who will decide her Dec 6. runoff election.
"I believe with a push, a significant push in the next few hours, that we could actually get the votes we need to pass the Keystone pipeline," Landrieu said. "We should take the new majority leader at his word and stop blocking legislation that is broadly supported by the American public and has been for quite some time ... We need to being to do that today. Not tomorrow. Not in January."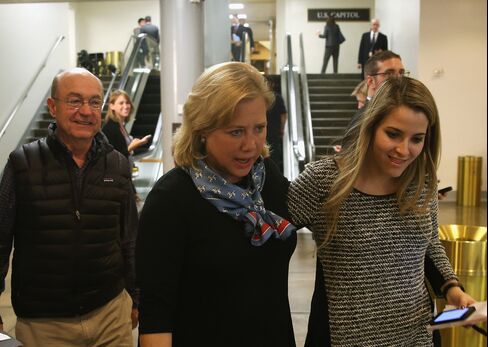 Landrieu's gambit came on the first day lawmakers had returned to work at the Capitol since the Nov. 4 elections, a day colored by the usual partisan plotting by both sides in the House and Senate chambers while toasting a fresh start as the not-yet-past and soon-to-be future passed each other in the hallway. There were rare moments of promise, such as when New York Democratic Senator Chuck Schumer was spotted escorting incoming Republican Shelley Moore Capito into the members-only Senate Dining Room and giving her tips on where to put her belongings.
McConnell began the day huddled with incoming Republican senators. Flanked by two women—Joni Ernst of Iowa and Capito of West Virginia—he was all smiles, resting his right hand in the pocket of his dark suit pants, gesticulating with the left, and laughing as he recalled the drubbing his party took at the polls when they lost the majority eight years ago. "This is a lot happier occasion than, for example, after the twenty-oh-six election when we had class President, Secretary and Treasurer Bob Corker," McConnell said of the party's only freshman member that year. "We're really excited about having a great new bunch here."
The new senators smiled for the cameras as reporters, who were allowed in McConnell's office for about three minutes, shouted questions that were mostly ignored. McConnell did field one—about whether he'd move to the political middle in order to pass legislation—and turned it into a shot at Obama. McConnell said he was "particularly distressed" by a trade deal reached with the Chinese that he said "requires the Chinese to do nothing at all for 16 years." "I hope we can do some business on trade and maybe tax reform," McConnell said. "First indications have not been very hopeful.
And on that not-so-bipartisan note, Don Stewart, McConnell's top press aide, shouted,"Thank you everybody!" a not-so-subtle signal that it was time to get out. On the way out, one reporter asked the pack of Republicans how it felt to finally be at the Capitol. "Very good," Ernst said. "Great," said Capito. "We've had a pretty good week," McConnell added. "Thank you everybody," Stewart told the lawmakers as the last reporters filed out.
Senate Democratic leaders, meanwhile, spent an hour with White House chief of staff Denis McDonough discussing a lame-duck agenda that included how to keep the government funded, Obama's stalled nominees, money to combat Ebola and a call for a new Authorization for the Use of Military Force against the Islamic State terror group. Less than a week after Obama pledged to instruct his administration would work with the new majority, McDonough didn't meet with any Republicans on Wednesday.
On the other side of the Capitol, Representative Paul Ryan took an elevator to a reception for new members. He reached out his hand Ryan Costello, a Pennsylvania Republican who will be sworn-in next year. "Philly suburbs, right?" the 2012 Republican vice presidential candidate said to the incoming freshman. The two talked about the game this Sunday between the Philadelphia Eagles and Ryan's Green Bay Packers.

While Ryan and Costello socialized, House Democratic Whip Steny Hoyer stood under a warm autumn sun with members of the Congressional Hispanic Caucus who called on Obama to protect more undocumented immigrants from deportation, a constant refrain from the liberal House lawmakers. Republicans have essentially said that such an action from the president would be the political equivalent of lighting a match in a poisoned well. "I urge my Republican friends to understand that that action will be temporary and can be replaced by a bill that we pass through the Congress of the United States," Hoyer said. "But what the president needs to do is give immediate and significant relief to those families that are being wrenched apart and living in fear."
Just down Pennsylvania Avenue at the Ronald Reagan building, Senator Tim Kaine of Virginia, a Democrat, called on Congress to use the lame-duck session to pass a new authorization for the use of military force against the Islamic State. Speaking at the Woodrow Wilson Center, he said the 2001 and 2002 AUMFs covering al Qaeda and actions in Iraq really aren't on point. Kaine said he wished Obama had pushed Congress harder to act before the midterm elections and that now "it's a little more complicated." Even so, he said, "I would put more of the blame on Congress' shoulders" than Obama's for what he called an abdication of its duty. "We're sort of outsourcing the moral responsibility" of war.
And as lawmakers from both parties converged on the U.S. Capitol, liberal donors were descending on the Mandarin Oriental hotel in southwest Washington for the opening session of the Democracy Alliance's winter meetings. The group exists to steer mega donors to a set of favored liberal causes. It's frequently viewed as the left's answer to the David and Charles Koch-backed political network. The opening 7 p.m. meeting was closed to the press.
Kathleen Hunter and Annie Linskey contributed to this report.
CORRECTION: An earlier version of this story misstated the length of Senator Mary Landrieu's time in office. She is in her third term and seeking a fourth.
Before it's here, it's on the Bloomberg Terminal.
LEARN MORE