Republican Sullivan Defeats Alaska Democratic Senator Begich, AP Reports
Republicans have now picked up eight Senate seats in the 2014 midterm elections.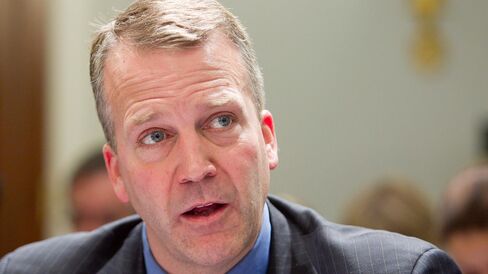 Republican Dan Sullivan bested Democratic incumbent Mark Begich in Alaska's Senate race, picking up an eighth seat for the GOP in the 2014 midterm elections, the Associated Press reported Wednesday.
The race was too close to call on the night of the Nov. 4 election. Under Alaska law, elections workers had to wait a week before counting the 20,000 absentee ballots.
"This was a hard-fought race," Sullivan said in a statement. "As we move forward, I want to emphasize that my door will always be open to all Alaskans."
Begich had not conceded, according to AP. His campaign did not immediately respond to a request for comment from Bloomberg Politics.
Sullivan, a former Alaska attorney general who served as assistant secretary of state in former President George W. Bush's administration, campaigned using the same playbook that worked for so many other challengers this year: Running against an unpopular Democratic president.
"Our country is on the wrong track and it's Barack Obama's failed policies that put us there," said Sullivan in his closing ad. "There's nothing wrong with America that can't be fixed by what's right with Alaska."
Begich also tried to run against Obama, stressing how he opposed the president's policies on oil drilling, gun control and education. He said in his closing campaign ad that he "took responsibility" for his vote supporting the Affordable Care Act, and is "working to fix the healthcare law."
There were also more subtle ways the campaign distanced itself from Washington. The main Democratic super-PAC supporting Begich, "Put Alaska First," was funded mostly by an outside group associated with Senate Majority Leader Harry Reid but was run by Alaska locals.
The Democrats plowed cash into what they hoped to be a formidable get-out-the vote effort that reached to the Arctic Circle, but it wasn't enough.
The results of one other key Senate race are still outstanding: Louisiana Senator Mary Landrieu, a Democrat, is heading to a runoff against Republican Bill Cassidy on Dec. 6. Republicans have already won enough seats to take control of the Senate next year.
Bloomberg News' Gregory Viscusi contributed to this report.
MORE FROM BLOOMBERG POLITICS
Before it's here, it's on the Bloomberg Terminal.
LEARN MORE