On Iran Sanctions, It's Almost Every Republican Versus Rand Paul
Neoconservatives are re-asserting their power this week, and are confident of a comeback inside the GOP.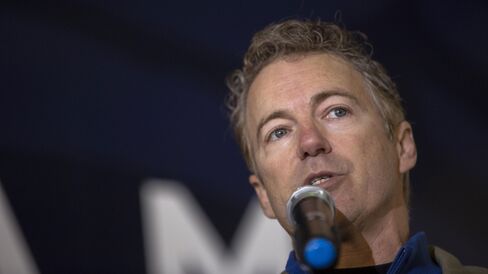 The day after the midterms, Senator Lindsey Graham gathered the South Carolina press corps and offered his assessment of the Republican mandate.
"Each candidate on the Republican side embraced a bold foreign policy," Graham said. "They rejected leading from behind. So, from my point of view, the Republican conference is going to made up of more traditional national security Republicans, and this era of flirting with isolationism, I think, has passed."
If that was too subtle, Graham found a better way of putting it when he talked to Washington Post reporter-blogger Jennifer Rubin. "The cavalry is coming over the hill," he said. He would move this week to advance the Iran sanctions bill, the Iran Nuclear Negotiations Act of 2014. "If we get it marked up, there will be a lot of bipartisan support."
Graham's math is largely correct. Ten months ago, the sanctions train seemed to be rolling as all but two Republicans and a group of nervous Senate Democrats signed onto the bill. Supporters hoped to crack 67 sponsors, making the bill veto-proof; they stalled out before reaching 60. Graham is right that the new Republican senators are inclined to be hawks, but of the 15 Democrats who sponsored the bill, four have already been defeated or replaced by Republicans–Kay Hagan, Mark Pryor, Mark Begich, and John Walsh. (Louisiana's Mary Landrieu is expected to lose a runoff in December.)
That leaves Graham with a few Republicans who replaced Iran doves. Iowa Senator-elect Joni Ernst favored sanctions during her campaign. So did Colorado Senator-elect Cory Gardner, South Dakota Senator-elect Mike Rounds, and West Virginia Senator-elect Shelley Moore Capito. Come January, there's a clear Senate supermajority in favor of sanctions. Graham, knowing that, wants to move before the November 24 expiration of the current agreement with Iran.
That leaves Senator Rand Paul in the position to challenge Graham's theory. Paul never has co-sponsored the sanctions. Before the midterms, in a speech at the Center for the National Interest, Paul mentioned Iran only once. "In light of the new threat posed by ISIS," he said, "I believe it is even more imperative that Tehran and Washington find an effective diplomatic solution for limiting the Iranian enrichment program. A nuclear-armed Iran would only further destabilize a region in turmoil." Paul was not bending–he was waiting for the administration's process to work.
On Wednesday, Paul is meeting with his brain trust to talk 2016. On Thursday, he'll face the choice of bucking almost everyone in his party on Iran sanctions. Next year, he may find himself even more isolated on foreign policy in a resurgent GOP.
Before it's here, it's on the Bloomberg Terminal.
LEARN MORE