The Day Chivalry Died at the Hands of Vladimir Putin
A tale of two gaffes at the Asia summit.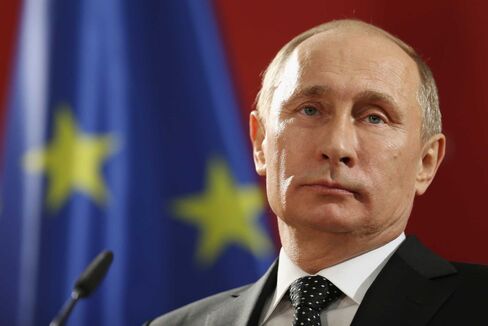 On Monday night in Beijing, at a grand banquet at the Water Cube, the aquatic stadium built for the 2008 Olympics, President Obama sat beside Chinese President Xi Jinping. To Xi's left sat his wife, China's first lady, Peng Liyuan. Xi may have been distracted by President Obama's witticisms, because, as they laughed, Peng seemed more occupied with the man to her left: Vladimir Vladimirovich Putin. It was summitry-as-Victorian-novel, complete with opaque motives, a swashbuckling gentleman of questionable designs, and a series of gaffes.
The annual summit of Asia-Pacific Economic Cooperation, or APEC, is the rare occasion that brings world leaders into the same room, then photographs them together in dark suits. This year's gathering comes during a particular chill in America's relationship with Russia, and as China (nearly) edges out the U.S. as the largest economy in the world. It is the biggest event President Xi has held to date; his administration has choreographed it so tightly that it even, literally, cleared the air, so that Obama could land to (relatively) blue sky.
For the evening celebration, chauffeured limousines drove the gathering leaders to the Water Cube. (Obama took his own armored Cadillac.) From inside, beneath forms of bright blue that brought to mind plant cell walls, the world powers sat all in a row. They were there to take in a 13-minute display of eco-friendly fireworks. And Putin decided it might be fun to set off a few of his own.
Light in his touch as an autocrat can be, Putin stood up, with one thing on his mind. He who has shot Siberian tigers, and knows a thing or two about pelts, faced right, and draped a shawl in his possession over First Lady Peng's shoulders. She stood, in turn, and received the shawl with ease—she seemed to be laughing. State television provided crucial voiceover, in case anyone missed it: "President Putin has placed a coat on Peng Liyuan." After the motion, Putin sat down, satisfied.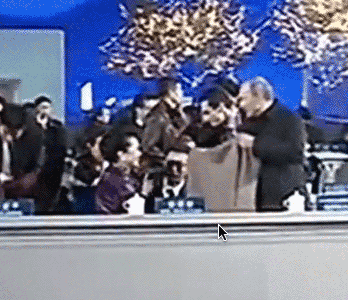 It was a typically audacious maneuver for Putin, moving forward while others are seemingly paralyzed. Peng would not let it stand. She clasped the shawl around her body, with both hands, but no sooner did she return to the seated position than, in most ladylike manner, begin removing it from her shoulders. An aide helped almost glide it off her, so smooth was the maneuver. He aide helps her put on a black layer, perhaps a cardigan. She doesn't need Putin to keep her warm.
About this show of chivalry, and possible slight, Weibo and other Chinese microblogging sites were chattering and obsessing. That is, while they could: just hours after the video went up, China's censors wiped clean the record; CNN reports that searches for the video and hashtag on social media sites turned up only broken links
Putin knows that, among the leaders at APEC, economic sanctions loom over his head, as does the downing, over eastern Ukraine, of Malaysia Airlines flight MH17. He is a master of stunts of manliness—a blackbelt in judo, a shirtless hunter.
But China, which is becoming closer with Russia as an economic and military partner, suddenly changed the subject. There could be no thought, at this carefully orchestrated summit, that he was moving in on Xi's wife.
Another world leader may be easier to oppose. As the Chinese state worked to keep pristine the reputations of its leader, some members of the public stomped on our own head of state, who dared to chew gum. On Monday night, USA Today reported, "Chinese Internet users, accustomed to the highly formal standards of their stiff party leadership, quickly characterized the leader of the world's most powerful nation as an impolite 'idler,' or careless 'rapper.'"
Some kinds of bad manners can be discussed—and some must simply be expunged.
Before it's here, it's on the Bloomberg Terminal.
LEARN MORE