Santorum: 'I'm Not Saying That All Muslims Are Terrorists'
Atheists make the world a more dangerous place, too, the former senator and presidential hopeful says.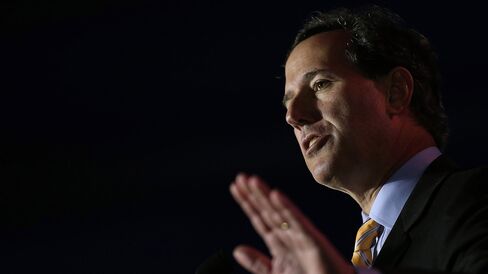 Former Senator Rick Santorum went to Liberty University in Virginia on Monday to deliver a speech casting U.S. foreign policy in the context of religion. One of his core messages seemed to boil down to this: Christianity makes the world more peaceful, while Islam inherently makes the world more violent.
Presidents George W. Bush and Barack Obama "have given all Muslims a pass," said Santorum, who ran for president in 2012 and is considering another run in 2016. Liberty, in Lynchburg, Va., was founded by Rev. Jerry Falwell and describes itself as the largest Christian university in the world.
The 2009 Fort Hood, Texas shootings and an Oklahoma beheading earlier this year–crimes in which Muslim men have been charged–should not be called "workplace violence issues," he said; doing so is "not only is a denial of reality, it makes us look weak and it makes us look foolish."
"Let me just be clear: I'm not saying that all Muslims are terrorists, nor do I say that all Muslims support terrorism," Santorum said. "But we have an obligation to face the truth about who the enemy is and what they want to accomplish to have any chance of defeating them."
Today's "threat" to the U.S. is "rooted in the belief in an all-powerful God and has over a billion adherents who are taught that their faith supersedes all other faith," he said. "In one form or another, Islam has been warring with western civilization for 1,300 years."
Santorum at the same time rejected the notion that organized religion inexorably leads to conflict. "If you look at the 20th century, look at Nazism, Fascism, Communism, Japanese Imperialism–all atheistic," Santorum said. "None of them constrained by God's laws, simply man's will for power." When man is "unbridled by moral laws," Santorum said, "you find true destruction."
There was one benefit to fighting atheists in the Soviet era, he said. The concept of mutually assured destruction worked because "they believed once they died, it was over."
In the fight against radical Islamists, he said, that doesn't work so well because "we are facing an enemy who believes in martyrdom as a desired goal for that afterlife."
Before it's here, it's on the Bloomberg Terminal.
LEARN MORE