Rush Limbaugh Threatens Lawsuit Over DCCC Rape Email
The conservative radio host is threatening to sue the DCCC if they do not retract and apologize for emails that implied Limbaugh essentially supported campus rape.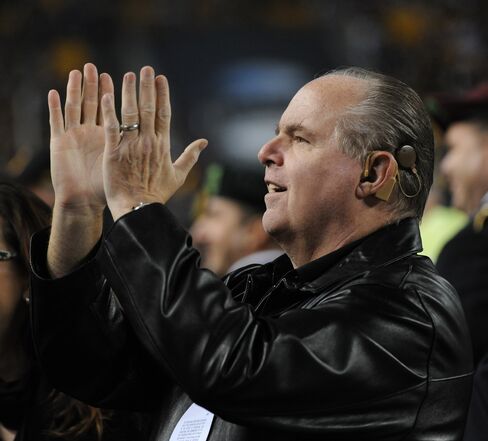 Conservative radio personality Rush Limbaugh is threatening to sue the Democratic Congressional Campaign Committee over campaign emails sent that Limbaugh says incorrectly portrayed him as condoning campus rape.
On Limbaugh's Sept. 15 nationally syndicated radio program, he took aim at Ohio State University's revised guidelines instructing students to adhere to a behavioral code requiring verbal consent before having sex.
"How many of you guys ... have learned that 'no' means 'yes' if you know how to spot it?" Limbaugh quipped.
That sentence was used in three DCCC blast emails that asked supporters to join a petition to have the controversial radio host removed from the air.
"There's simply no excusing comments of this offensive nature, especially at a time where our country is having a long-overdue conversation about violence against women. Plain and simple—Rush Limbaugh is advocating for the tolerance of sexual assault and should be taken off the air immediately," Representative Steve Israel, the DCCC chairman, said in a statement one day after Limbaugh's comments.
Limbaugh's lawyers on Monday sent a letter to the DCCC demanding it issue a public apology and retraction, or face a lawsuit. "We love opinions, but this crossed a very bright line," Brian Glicklich, a Limbaugh spokesman, told the Washington Post. "They lied about his words. They quoted something specific and out of context, and it is a lie."
Two weeks after Limbaugh made his remarks, California Governor Jerry Brown signed into law an "affirmative consent" bill that is similar to the OSU guidelines.
DCCC officials were not available for comment.
Before it's here, it's on the Bloomberg Terminal.
LEARN MORE