Obama Looks Abroad to Rebound From Midterm Losses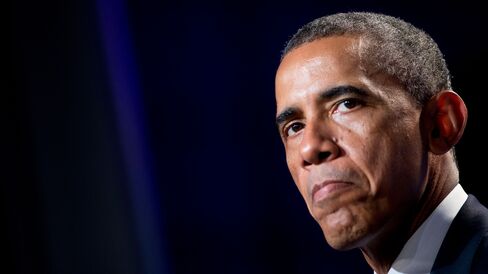 President Barack Obama, fresh from his party's electoral drubbing at home, sought progress abroad with a push for a U.S.-backed free-trade accord and an agreement with China to expand visa limits.
On the first day of a week-long Asia trip, Obama convened leaders from the 11 other countries negotiating a pan-Asian trade deal to keep momentum from stalling an accord that has been central to his pivot toward the Pacific region. The deal to lengthen the validity of business and tourist visas for Chinese and U.S. travelers to 10 years was billed by the White House as a tangible gain in a relationship that this year has been fractious.
Seeking to dispel regional doubts over American leadership, Obama also vigorously reinforced his commitment to rebalancing U.S. foreign policy toward Asia.
"There should be no doubt the United States of America remains entirely committed when it comes to Asia," the president told a group of business leaders who were gathered for the annual Asia-Pacific Economic Cooperation summit in Beijing today. "Our shared future is here in Asia."
In a preview of his coming meeting with Chinese President Xi Jinping, which follows the Asian-Pacific summit, Obama repeated -- twice -- that the U.S. welcomes "the rise of a prosperous, peaceful and stable China."
Friction Point
The president addressed one of the friction points between the U.S. and China, giving a nuanced defense of the traditional American support for human rights.
Though the U.S. did not expect China to follow its lead in all areas, especially given its level of development, he said he would reaffirm when meeting Xi the country's commitment to individual freedoms.
"We're not going to stop speaking out on behalf of the things we care about," he told reporters after a meeting earlier in the day with Australian Prime Minister Tony Abbott.
Obama is using the trip, which also includes stops in Burma and in Australia for the annual summit of the Group of 20 nations, to reassert himself a week after his Democratic Party lost its Senate majority in midterm elections.
He boasted to his audience of chief executives of a U.S. economic recovery that has created 10.6 million jobs and said the country is primed for sustained growth.
Since last addressing the APEC CEO summit three years ago, Obama said, "I've come back at a moment when, around the world, the United States is leading from a position of strength."
His announcement of the change in U.S. and Chinese visa policies drew their cheers and applause.
Visa Expansion
The two nations will increase short-term tourist and business visas to 10 years from one, the longest duration allowed by U.S. law. He said the move would spawn economic gains and stronger inter-personal ties between the world's two largest economies. Student and exchange visas will be lengthened to five years, also increasing from the previous one-year limit.
The relaxation could help create 440,000 jobs by quadrupling the number of Chinese visitors to the U.S. by 2021, up from 109,000 last year, according to the White House.
"In terms of the U.S.-China bilateral relationship, this is a game-changer," said Evan Medeiros, Obama's senior director for Asian affairs.
The economic impact by the end of that period -- $85 billion annually up from $21 billion today -- is modest in a $17.5 trillion U.S. economy.
Business Benefits
Andrew Polk, a Beijing-based economist with the Conference Board, said small and medium businesses will be among the biggest beneficiaries. Increasingly buffeted by developments in China, they will more easily be able to have direct contact with Chinese vendors and customers, Polk said.
The move is "a positive step in terms of economic cooperation and linkage between the two countries," Polk said.
The U.S. will begin issuing visas under the new rules starting November 12. It would allow visitors and business representatives from both countries to use the same visa for a decade for multiple entries.
As China grows more prosperous -- the economy is more than twice as large as in 2005 -- an increasing number of Chinese are traveling abroad. The country boasts the fastest-growing outbound tourist market in the world and nations such as the U.K., France and Japan already have eased their travel procedures with others including France, Germany and Italy poised to do likewise.
Chinese Travelers
Though Chinese travelers rank the U.S. as their favorite destination, fewer than two percent of outbound Chinese tourists vacation in the U.S., according to the White House. Last year, the 1.8 million Chinese visitors to the U.S. contributed $21.1 billion to the economy, the administration's fact sheet said, with about 109,000 American jobs depending on Chinese visitors.
Chinese travelers have complained about lengthy delays in processing visa requests and U.S. officials, who briefed reporters on condition of anonymity said there will be no change in the required in-person interviews. Many Chinese, who live hours from the handful of American consular sites, regard that as a significant obstacle.
For Obama, the visa agreement marked an immediate achievement on a trip designed to produce generational benefits. The proposed 12-nation Trans-Pacific Partnership trade deal, the subject of a morning meeting he led at the U.S. embassy, remains a goal as it was one year ago.
His talks with allies such as Australia's Abbott and President Joko Widodo of Indonesia featured long-term issues such as climate change and the battle against Islamic extremism.
In brief comments on the release of two Americans held prisoner in North Korea, Obama damped the notion that it signaled a possible thaw in relations. The U.S. continues to have "a broader fundamental conflict with the North Koreans," he said.
Director of National Intelligence James Clapper, who was dispatched on a secret mission by Obama to secure their release, didn't engage in any "high-level policy discussions" with North Korean officials.
Asked if he had learned anything about the country's mercurial young leader, Kim Jong Un, the president said simply: "no."
— With assistance by David Lynch, and Phil Mattingly
Before it's here, it's on the Bloomberg Terminal.
LEARN MORE