Lynch Nomination May Be An Early Test For Republican Senate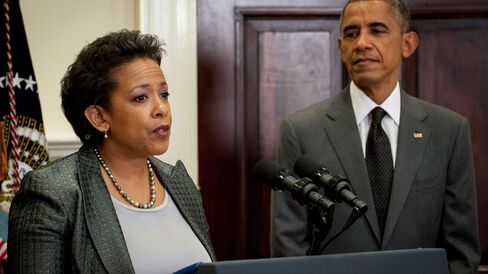 Senate Democratic leaders are showing little appetite for pushing through confirmation of Loretta Lynch as U.S. attorney general before they surrender control to Republicans in January.
A vote on the nomination likely will be delayed until Congress's new session, though no final decision has been made, said a Senate Democratic aide who spoke on condition of anonymity to discuss internal party deliberations.
An early 2015 vote on Lynch's nomination would give Republicans a chance to show they want to work with President Barack Obama in the final two years of his presidency. A Democratic effort to force through Lynch's confirmation in December may inflame partisan rancor and lead to enhanced Republican scrutiny of Obama's nominees.
Obama announced his selection of Lynch, 55, as his nominee to succeed Eric Holder and become the first black woman to lead the Justice Department on Nov. 8, four days after the president's party lost the Senate majority in the Nov. 4 election.
West Virginia Senator-elect Shelley Moore Capito, one of at least seven Republicans who won Democratic-held seats, said it would be a mistake for Democrats to force a Senate vote on Lynch during a post-election session that begins tomorrow.
"I think that if we're going to have an era of good faith here, we need to begin the confirmation process for one of the most important jobs in the country and that's the attorney general," Capito said Nov. 9 in an interview with Fox News.
Senate Majority
Starting in January, Republicans will control at least 52 and possibly as many as 54 Senate seats, depending on the outcome of still-contested races in Alaska and Louisiana. Democrats, who have held a Senate majority since 2007, currently control 55 seats in the chamber.
Senate Republican Leader Mitch McConnell of Kentucky, poised to take over as majority leader in January, has said Lynch will receive "fair consideration" in a Senateled bu his party. He said her nomination "should be considered in the new Congress."
Lynch is in her second stint as U.S. attorney based in Brooklyn, New York, a job she held previously during President Bill Clinton's administration. The Harvard-educated lawyer was confirmed for her current post in 2010 with no Republican opposition.
Senate Judiciary Chairman Patrick Leahy, a Vermont Democrat, said yesterday he anticipates bipartisan support for Lynch to become the nation's chief law-enforcement officer.
"There may be some who feel they have to vote 'no' simply because it's a nominee by President Obama, but the vast majority of Republicans and Democrats will vote for her," Leahy said on MSNBC. "She's superbly qualified."
Early Dissent
In a sign of potential dissent, Republican Senators Ted Cruz of Texas and Mike Lee of Utah said Lynch must make clear whether she thinks it's "constitutional and legal" for Obama to act unilaterally on revising immigration policy.
"The nominee must demonstrate full and complete commitment to the law," the two senators said in a statement.
Obama reiterated last week that he'll take action by the end of the year to halt deportations for some undocumented immigrants if Congress doesn't move on rewriting the law.
Cruz and Lee said Lynch shouldn't be confirmed during the final weeks of this year "by senators who just lost their seats and are no longer accountable to the voters."
Recent Nominees
An early 2015 floor confirmation vote would be in keeping with the time frame for consideration of recent Justice Department heads.
A Republican-controlled Senate spent just shy of three months considering Alberto Gonzales's nomination in late 2004 and early 2005, while a Democratic-controlled Senate spent slightly less than two months on the confirmation process for Michael Mukasey in 2007. Both men were picked for attorney general by Republican President George W. Bush.
The Senate in 2009 -- under the control of Democrats -- took about two months from the time Obama announced Holder as his choice for attorney general to confirm him.
Senate Majority Leader Harry Reid, a Nevada Democrat, drew Republican ire last year when he changed the chamber's rules to strip the minority party's power to block all executive and judicial-branch nominees except those for the Supreme Court.
McConnell has said the move may lead Reid to be remembered as the worst majority leader in history.
While McConnell hasn't said whether he would revert to the previous 60-vote threshold often required to move forward on confirming presidential nominees, he has said he will restore some rights to the minority party.
Democratic Decision
When Congress returns tomorrow, Senate Democrats must decide how many nominees to try to push through before year's end.
While Republicans can't block nominees, they can slow them down and force Democrats to spend several days on a single appointment. If Republicans use these tactics, it will be difficult to confirm more than a handful of nominees before Congress leaves Washington in the middle of or late December.
In addition to the attorney general job, the position of deputy attorney general also will be coming open, and Obama must choose a new director of the U.S. Secret Service.
A series of lapses by the Secret Service led to the Oct. 1 resignation of director Julia Pierson. A review panel is set to report by Dec. 15 its suggestions for improving the service and to provide advice to Obama on potential choices for director.
Pending Nominations
Among the executive branch openings pending in the Senate are Federal Reserve Chair Janet Yellen's nomination to also serve as an alternate governor of the International Monetary Fund, John Cruden to be an assistant attorney general, Sharon Block to be a member of the National Labor Relations Board, and ambassadors to countries including Norway, Hungary, the Bahamas and Vietnam.
The Senate also will need to fill two governor slots at the Federal Reserve and one commissioner for the Commodity Futures Trading Commission. The administration has yet to make nominations for the positions.
Republicans next year may be more reluctant to allow Obama's federal judicial nominees to move forward because those are lifetime appointments.
Democrats accuse Republicans of obstructing the president's nominees and point to Texas -- with 11 judicial vacancies now and four more expected soon -- as a prime example.
Since late July, the Senate has confirmed one judge -- Jill Pryor to be U.S. Circuit Judge for the 11th Circuit.
Before it's here, it's on the Bloomberg Terminal.
LEARN MORE