How to Cure America's Electoral Apathy
Here's what politicians can do to get people to care about elections.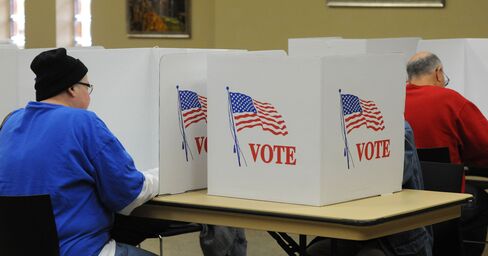 The simplest explanation for this year's abysmal voter turnout is that people didn't care. An estimated 36.4 percent of eligible voters voted in the midterm elections, the lowest number since the 1940s. Yes, restrictive voter ID laws—which have been proven to negatively affect turnout—are a source of the problem, but even in states where it's incredibly easy to vote, turnout was low.
In Washington state an estimated 38.6 percent of eligible voters sent in ballots, even though it's literally the easiest place to vote in the country: Washington is a mail-in ballot state that doesn't require IDs. The state didn't have a major race, but voters did have two major gun initiatives to consider.
That's compared to 2010, when 54.3 percent of eligible voters cast ballots in the state, when Democratic Senator Patty Murray was in a close re-election race.
California, another state where it's really easy to vote, may set a record for lowest turnout ever. The current estimate is 32.8 percent, which comes in under the previous low of 36.8 percent in 2002.
Again, lack of interest in the race played a role. According to a poll conducted last month, four out of 10 California voters didn't know that incumbent Democratic Governor Jerry Brown was running for re-election, and only one in five could name his Republican challenger, Neel Kashkari.
In the 10 states that did see increases in turnout over 2010, all of them had heavily publicized Senate or governor's races. And even then, Iowa and Alaska—two seats the GOP won to take back the Senate—saw lower turnout.
If we're looking to other Western countries for reforms legislatures have passed to increase turnout, Australia consistently has a voter turnout over 90 percent, thanks to compulsory voting. Last week Washington Post columnist Ruth Marcus made the case for mandatory voting, arguing that in addition to getting more people to the polls:
Compulsory voting would reduce the cost of elections. Candidates, parties and outside groups would no longer have to devote resources to turning out voters — the requirement would do it for them. […] Even more important, compulsory voting would have the salutary effect of forcing parties to appeal to all voters, not just the committed base they can motivate to get to the polls.
There are also less extreme reforms we could pass. "We need to look at the motivation side, the voter education side," Rob Ritchie, executive director of FairVote, an election participation reform group, told Bloomberg Politics. "There's a lot of lip service to this, but it doesn't have this visceral reaction across the country."
His group backs a series of proposals, including universal voter registration and proportional voting.
Universal voter registration would put the impetus on the government, not voters, to keep voter registration information up-to-date. This probably wouldn't be popular in the current political environment, but states have enacted similar, smaller reforms.
Louisiana, for example, recently passed a law that lowers the voter registration age to 16 and allows new drivers to register when they get their driver's license.
Under proportional voting, congressional districts would be merged to create larger districts where voters would select 3-5 representatives.
The races are so predictable that FairVote, an election participation reform group, correctly predicted the outcomes of hundreds of 2014 House races in April of 2013.
Ritchie argues that proportional voting would provide more voting power to minority groups, help diversify the candidates who win elections (there would be "pro-life Democrats and "pro-wage Republicans"), and make House races more competitive. But while that sounds good, others argue it's not be realistic.
Michael McDonald, an associate professor at the University of Florida and a senior fellow at the Brookings Institution who runs the United States Election Project, argued that proportional voting might actually dilute the minority vote.
To create the larger mega-districts, officials would have to manipulate the districts for race, which means they can also manipulate them for partisanship. In a state like Texas, "I imagine Latino groups would be out there suing them for voting rights violations," he said.
McDonald argues that the most realistic path to creating competitive districts is through redistricting reform. For instance, New York just passed a ballot initiative that will create a bipartisan redistricting commission.
Of course, the biggest problem with proportional voting might be that voting reform requires that the representatives who benefit from non-competitive races voluntarily make politics more competitive. "Politicians are risk averse," McDonald said, adding that it would take a major push from below to get Congress on board.
Still, Ritchie argues that the group is much closer than it was several years ago, in part because people realize the current system doesn't work. "I think it's very likely we'll have a bill in the next three to six months," he said.
Before it's here, it's on the Bloomberg Terminal.
LEARN MORE