The Story of a Super-PAC That Could Have Done Better
It missed out on the chance to topple Virginia Senator Mark Warner, and steal a Democratic seat.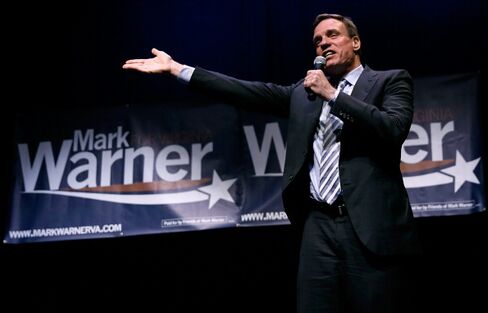 Ed Gillespie's underfunded senate campaign had a secret weapon that never deployed. It was perhaps aptly named We Can Do Better PAC—an outside group that, well, could have done better.

Gillespie Friday conceded in the Virginia Senate race where he was within less than 17,000 votes of offing Democratic Senator Mark Warner. That narrow victory margin comes after Warner spent about $12.7 million through Oct. 15, which was more than twice as much as Gillespie's spending in the same time period.
Gillespie's outside group was part of this year's trend of individualized super-PACs formed to benefit a sole candidate. It attracted some attention in February because Gillespie's role as a co-founder of the fundraising juggernaut American Crossroads raised expectations that donors would show him loyalty. As a candidate, Gillespie was barred from coordinating with the outside group that was supposed to be supporting him.

We Can Do Better PAC got off to a decent start--it was run by a topflight staffer, Paul Bennecke who was a former political director for the Republican Governors Association. He didn't immediately respond to an email seeking comment. (Bennecke was also a key consultant this cycle to Republican David Perdue who beat Democrat Michelle Nunn in Georgia's Senate contest.) It attracted an early round of seed money from big name donors, including Howard Leach, who cut six figure checks in 2012 to American Crossroads and Mitt Romney's Restore Our Future.

But the PAC never took off. In the end only six people donated, and it raised a mere $140,000. The super-PAC spent most of the cash it raised on radio buys in late October, according papers filed with the Federal Election Commission. Warner, meanwhile, benefited from a more prodigious outside group--the Virginia Progress PAC. It raised $2.3 million and used the cash to aired roughly 3,400 TV spots, according to Kantar Media.

This chart from Kantar Media nicely illustrates the lopsided television presence.



Before it's here, it's on the Bloomberg Terminal.
LEARN MORE