The Hackers, The Congressman, and Sharyl Attkisson's Book Party
Conservatives and journalists celebrate the release of the former CBS News reporter's Obama administration indictment.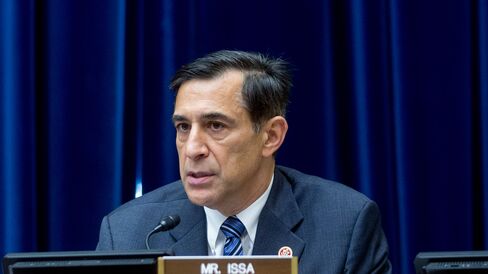 "I'm pretty sure I'm the least socially connected journalist in D.C.," said Sharyl Attkisson.
At the moment, she was being wry. Attkisson, the Emmy-winning investigative reporter who left CBS News this year, spent Thursday evening at a Georgetown mansion, celebrating the release of her reporting memoir, "Stonewalled." Her hosts, defense analyst Michael Pillsbury and arts patron Susan Pillsbury, had hosted Donald Rumsfeld in the same grand rooms and zen garden when the former defense secretary published a compilation of learned wisdoms. Attkisson's book was even more important, alleging that the federal government established "a backdoor link" to access her computers after her reporting on the Fast and Furious and Benghazi scandals. The connected had come out: Howard Kurtz, Grover Norquist, Juan Williams, Kurt Bardella, Carl Cannon, Byron York, and the outgoing House Oversight chairman, Representative Darrell Issa.
Attkisson thanked the guests, as well as her colleagues at CBS who'd lived through her hell of reporting great stories and seeing them spiked for political reasons. The reception to her book, said Attkisson, had been positive "even from some of my colleagues that I wasn't quite sure about." It had been negative from the people who were not really interested in journalism.
"It's been really interesting in the past week or so to be questioned by members of the, air-quote, 'media,'" said Attkisson, miming the quotes for full facetious effect, "who take things from special interests who feel attacked in the book, or feel as though their interests are threatened. They take those allegations, present them to me without checking them out, with any documentation -- I consider it propaganda -- and then take my assertions and handle them skeptically with this incredibly exciting attack. This can't be true!"
This sounded like a reference to Media Matters, the David Brock-run liberal watchdog group that produced story after story on the strangeness of Atkisson's hacking tale. As "Stonewalled" was rolled out, Kurtz and Washington Post reporter Erik Wemple excerpted her details of a stray cable being found on her FiOS box, a "reeeee!" sound coming from her computer, and words being deleted from documents as Attkisson watched. Media Matters was not the only source of skepticism. After The American Conservative's Rod Dreher wrote about Atkisson's claims, a conservative friend wrote in that the government could have gone after Atkisson by placing "unnoticeable software on her computer, either by breaking in with a warrant when she wasn't home, or by hacking in remotely."
Attkisson was steadfast. "I just can't help but think, if only you would occasionally apply that kind of skepticism to the federal government, and the administration, and the powers that be that work for us and have a record of providing inaccurate information," she said. "These media people have been living by the dictum, don't question authority. Question those that question authority. That's what happens in countries that don't have a free press."
Some of Attkisson's sources were in the room, ready to bemoan the same trends. An ACORN whistleblower told the gathering of the good work Attkisson did, and the hardship that came after "the media moved on." Gregory Hicks, a career foreign service officer who testified that quicker action could have broken up the September 11 attack on the Benghazi consulate, stood just outside the party's main room, unrecognized until Attkisson pointed him out. He had a stack of business cards from his post-State Department gig at the Center for Strategic and International studies.
"I got extracted from the broom closet," he joked. To his mind, Attkisson had nailed it–there was swift retaliation and lifelong damage for the people who did their jobs and talked to reporters when the system failed.
Back at the front of the party, Attkisson was finishing her remarks about the predictable dismissals she'd gotten from the rest of the press. "Please read page 345 of 'Stonewalled,'" she said. "It's all there. It's foretold. It's following a script." When the audience hesitated to ask a question, Pillsbury pulled Issa to the front of the room.
"My committee is a desert island if not for a press that will look at stuff fairly and scrutinize it," Issa said. "In many of our investigations, Fox News led; CBS, on occasion, was there and made a big difference; on very rare occasions ABC; never NBC."
Investigations, he said, worked only "if the press, and particularly reporters, will go out and meet people and get the story from whistleblowers and then report it and give them a fair hearing."
Issa, who is term-limited out of his chairmanship this year, floated the names of some possible successors–Utah Representative Jason Chaffetz, South Carolina Repreresentative Trey Gowdy, Ohio Representative Jim Jordan. The point was that the committee only mattered if honest people blew the whistle and honest reporters noticed.
"When an administration says 'no,' it's no different than when Andrew Jackson marched Indians down the Trail of Tears, to their death," Issa said. "The fact is, the government will obey the administration's orders, if there isn't somebody to say 'Hold it, stop!'"
Issa gave back the microphone, then stuck around. "Reporters generally don't like Darrell Issa," said Attkisson. "They do like, and I do too, [former Democratic committee Chairman] Henry Waxman. When I did stories about Halliburton, and Iraq contracting fraud, and things that scrutinized the Bush administration's decisions, everybody loved that. I was patted on the back. Nobody said, 'you're a liberal shill.'"
Attkisson started to take questions from the audience, as the people out of earshot talked over white wine, lobster pot pie, and Peking duck wraps that were being individually sauced by a chef. Conservative radio host Chris Plante asked Attkisson if CBS News could still be trusted. "It's not a monolith," said Attkisson. She made it clear, again, that the people criticizing her hacking story had more agenda than expertise.
"I had three forensic analyses of my computers, each of which confirmed remote intrusions of a highly sophisticated nature, and pointed toward government-type software involvements," said Attkisson. She thanked, as she had in the book, analyst Don Allison of Kore Logic.
"To do what we needed to do, we needed to have a man with a very specific set of skills," said Attkisson, doing a lilting imitation of Liam Neeson's catch phrase in "Taken." "He's not going to talk to reporters. Don't bother to try right now. I think down the road, there'll be a lot more information. Today's not the day."
Enjoy this article? Don't forget to follow @BPolitics on Twitter and like Bloomberg Politics on Facebook
Before it's here, it's on the Bloomberg Terminal.
LEARN MORE