Obama Names Lynch as Attorney General Pick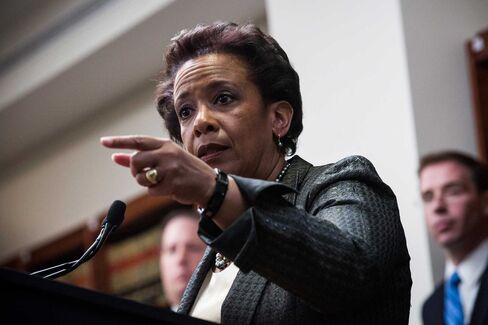 President Barack Obama chose Loretta Lynch, a prosecutor from Brooklyn who hasn't had close ties to the White House, as his nominee to succeed U.S. Attorney General Eric Holder.
Lynch, 55, in her second stint as U.S. attorney for the Eastern District of New York, would be the first black woman to serve as the nation's top law enforcement officer if she's approved by the Senate. Her office has prosecuted banks over money laundering and misleading investors on mortgage-backed securities.
"Lynch is a strong, independent prosecutor who has twice led one of the most important U.S. attorney's offices in the country," White House press secretary Josh Earnest said in a statement today.
The choice was made public three days after Obama's Democratic party lost control of the Senate to the Republicans in midterm elections.
Senator Mitch McConnell, the Kentucky Republican who's set to become the Senate Majority Leader in January, promised Lynch will "receive fair consideration by the Senate."
Senator Charles Grassley, an Iowa Republican who is set to become the chairman of the Judiciary Committee, said she'll get a thorough vetting and a fair hearing.
"I look forward to learning more about her, how she will interact with Congress, and how she proposes to lead the department," he said.
Vote Timing
While the Senate remains in Democratic control through the end of the year, the White House hasn't indicated it will seek expedited action on Lynch. There could be a long-term political cost to the administration if it pushes for a confirmation vote before Republicans take control of the Senate. Holder has said he didn't expect a confirmation vote until next year and will stay in the post until then.
Obama will announce his pick tomorrow at the White House, where he and Lynch will be joined by Holder, according to Earnest.
Lynch had originally been under consideration for the Justice Department's No. 2 job. She rose as a contender for attorney general after former White House Counsel Kathryn Ruemmler pulled herself out of contention for the post.
Lynch, who hasn't been part of Obama's inner circle, was seen as having an easier path to confirmation than two others under consideration: Solicitor General Donald Verrilli and Labor Secretary Tom Perez, who are closely tied to Obama's record on issues that will be attacked by Republicans.
Negotiating Settlements
Lynch oversees federal prosecutions in an area of New York that includes Brooklyn, Staten Island, Queens and the rest of Long Island.
During her current tenure, the office negotiated a $1.92 billion money-laundering settlement with HSBC Holdings Plc in 2012 and is investigating whether banks violated anti-bribery laws by hiring the children of government officials in China to win business.
Lynch's office aided in a federal investigation that resulted in Citigroup Inc.'s agreement in July to pay $7 billion in fines and consumer relief to resolve claims it misled investors about the quality of residential mortgage-backed bonds sold before the financial crisis. Her office was also involved in Bank of America Corp.'s $16.7 billion settlement to end federal and state probes into mortgage-bond sales.
If nominated and confirmed, Lynch would be the first U.S. attorney elevated directly to the top Justice Department job since the 1800s.
Before it's here, it's on the Bloomberg Terminal.
LEARN MORE