What Mark Warner's Campaign Should Have Learned from Al Franken
The end of the road for anti-debt politics.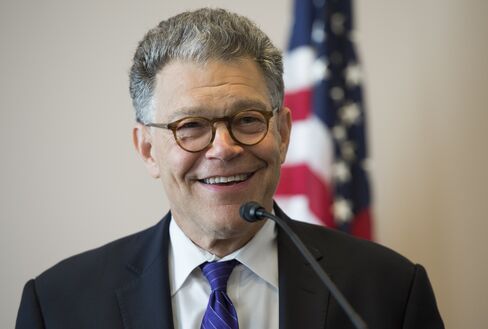 Virginia Senator Mark Warner has a large enough ballot lead to be re-elected, and a small enough lead for reporters to write obituaries about his old appeal. In his two previous winning races, a 2001 governor bid and 2008 Senate landslide, Warner won swaths of conservative Virginia. Not this time. "A self-described 'radical centrist' who prided himself on his appeal among Republicans and independents," wrote Jenna Portnoy and Rachel Weiner, "Warner steadfastly continued to court those voters despite strong evidence that their tolerance for Democrats had dramatically waned." Every Warner faux-bit (faux obit) features something like this—that he is no longer the invincible centrist.
But it's not as if Warner was the only Democrat who had a stubborn 97 percent record of "voting with the president" and who also tried to run as a dealmaker. Minnesota Senator Al Franken made a similar argument to voters, describing himself as an aisle-crosser, talking up the bipartisan bills he'd pushed, telling audiences that he'd called Rand Paul right after the Kentuckian's 2010 win. Mike McFadden, a moderate Republican businessman who made no big mistakes and was highly rated by reporters looking for "sleeper" races (and who shared an ad-maker with Joni Ernst), never got close to Franken. The incumbent won by 10 points, bigger than the Obama-Biden margin in Minnesota in 2012. Warner had a 56 percent approval rating from the Virginia electorate, and won 49 percent of its votes.
http://www.bloomberg.com/politics/graphics/2014-live-results/county-level/#VA
Yes, Minnesota is bluer than Virginia; Obama won the former by 8 points, the latter by 4. The exit polling had Obama's approval rating at 40 percent in Virginia and 47 percent in Minnesota. It's still worth asking if Warner emphasized the wrong tokens of bipartisanship. One of Warner's key September ads told the story of how he'd balanced budgets and favored a "bipartisan solution to cut the national debt even if means taking on his own party."
There's vanishingly little evidence that Democrats gained anything in 2014 from favoring bipartisan debt deals. There's more evidence to the contrary, if you look at how the people who favored Simpson-Bowles got hammered.
Compare this to Franken. He had two of the best spots I saw all cycle—and I saw an eyeball-scalding overload of these things. In one, he talked about the non-partisan need for student loan reform that would treat student debt like any other debt.
http://youtu.be/uTYtmPYUKdA?list=UU5i9ufhR7yeOAlKN6z1mu1w
The other spot put Franken alone in front of a camera, explaining "what should really bother you" about the "special tax break" given to Wall Street hedge fund managers.
http://youtu.be/3BbAiy_QVf8?list=UU5i9ufhR7yeOAlKN6z1mu1w
Franken ran negative ads that looked a lot like Warner's, and both attacked their opponents for their business decisions and clients. Warner spent a week of his campaign explaining away a minor scandal over whether he tried to change the mind of a state senator who was retiring by offering to find his daughter a better job than the GOP was offering. Franken faced no scandal. I'm not making a one-to-one comparison, but I do think Franken proved that voters respond to direct arguments about their economic angst better than they respond to promises that Washington is going to Fix the Debt.
Before it's here, it's on the Bloomberg Terminal.
LEARN MORE