U.S. Appeals Court Overturns Gay Marriage Rights in 4 States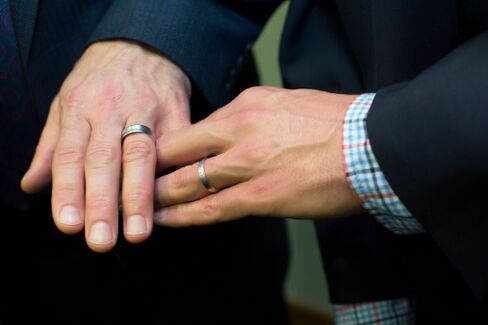 Gay couples have no fundamental right to marry, a federal appeals court said, reversing rulings from four Midwestern states and potentially forcing the U.S. Supreme Court to settle the same-sex marriage debate.
The 2-1 decision yesterday by the U.S. Court of Appeals in Cincinnati comes a month after the nation's highest court declined to review cases arising from appellate panels in Denver, Chicago and Richmond, Virginia, each of which affirmed lower-court rulings that same-sex marriage is a right under the U.S. Constitution.
The Cincinnati court is the first federal appeals panel to reach a different conclusion. The judges overturned lower-court decisions that struck down laws barring same-sex marriage rights in Michigan, Kentucky, Tennessee and Ohio.
The American Civil Liberties Union said in a statement it would immediately ask the Supreme Court to review the decision. Two legal scholars said the high court is almost certain to do so.
"Who decides?" U.S. Circuit Judge Jeffrey A. Sutton wrote early in his 42-page majority opinion. "Is this a matter that the national constitution commits to resolution by the federal courts or leaves to the less expedient, but usually reliable, work of the state democratic processes?"
Acknowledging gay people are subject to prejudice in the U.S., "sometimes at the hands of public officials, sometimes at the hands of fellow citizens," Sutton said, "we also cannot deny that the institution of marriage arose independently of this record of discrimination."
32 States
Gay marriage has been legalized by court rulings, legislation or popular vote in 32 U.S. states plus the District of Columbia, according to the advocacy group Freedom to Marry.
A federal judge in Kansas City, Missouri, today ruled the state's ban on gay marriage is unconstitutional. Missouri Attorney General Chris Koster said the state will appeal. Koster is also appealing a decision from a state judge, who also found the ban unconstitutional.
A U.S. judge in Kansas City, Kansas, issued an order blocking enforcement of that state's gay marriage prohibition on Nov. 4, but put his order on hold pending possible appeals.
The Cincinnati court's majority decision reversed trial-court rulings legalizing same-sex marriage in Michigan and Kentucky, as well as decisions in Kentucky, Tennessee and Ohio to compel recognition of such marriages legally performed elsewhere.
Sutton was joined in his opinion by a fellow appointee of Republican President George W. Bush, U.S. Circuit Judge Deborah Cook.
U.S. Circuit Judge Martha Daughtrey, an appointee of Democratic President Bill Clinton, dissented, saying her peers failed to address whether a state same-sex marriage ban violates the U.S. Constitution's equal-protection guarantees.
'Mere Abstractions'
Cook and Sutton treated the issues and individuals involved as "mere abstractions," Daughtrey said.
"Instead of recognizing the plaintiffs as persons, suffering actual harm as a result of being denied the right to marry where they reside or the right to have their valid marriages recognized there," she said, "my colleagues view the plaintiffs as social activists who have somehow stumbled into federal court, inadvisably, when they should be out campaigning to win the 'hearts and minds' of Michigan, Ohio, Kentucky and Tennessee voters to their cause."
The trio heard argument in all six of the cases in a single afternoon, on Aug. 6.
The majority opinion was applauded in a statement issued by Brian Brown, president of the National Organization for Marriage.
'Tremendous Victory'
"We have been awaiting this decision for some time and welcome it, not only as a tremendous victory, but as a common sense recognition that it is not for the federal courts to substitute their judgment about whether same-sex 'marriage' is a good idea or not, but to leave it to the people to make the decision about this fundamental institution," he said.
Joining the ACLU in criticizing yesterday's outcome was the Washington-based Human Rights Campaign.
"The legacies of Judges Deborah Cook and Jeffrey Sutton will forever be cemented on the wrong side of history," Chad Griffin, president of the advocacy group, said in a statement.
"Gay and lesbian couples in Kentucky, Michigan, Ohio and Tennessee are just as deserving of marriage equality as the rest of America," he said.
Gina Calcagno, coalition manager of Michigan for Marriage called the ruling "a small stumbling block," and said the group would continue to seek marriage equality.
Michigan Attorney General Bill Schuette, a Republican, said the prohibition on gay marriage in the state's constitution remains in "full effect."
'Final Word'
"The U.S. Supreme Court will have the final word on this issue," he said in an e-mailed statement. "The sooner they rule, the better, for Michigan and the country."
Schuette's comments were echoed by Kentucky Governor Steve Beshear, a Democrat, who split with the state's Democratic attorney general, Jack Conway, on whether to defend that state's prohibition.
"I expect the plaintiffs to appeal this ruling quickly and I urge the Supreme Court to take up this issue," Beshear said.
While Conway also said he thinks the high court will take up the case, the attorney general said the trial court decision to invalidate the state's ban was the correct one.
Supreme Court
Yesterday's appellate ruling "makes it nearly certain that the Supreme Court will finally have to grant review in a same-sex marriage case," said Michael Dorf, a Cornell University law professor.
The justices last year struck down that part of the Defense of Marriage Act limiting federal recognition to those unions of one man and one woman, stating the government could recognize gay marriages in states where they're legal, without reaching the ultimate issue.
Supreme Court review is likely this term, said Washington lawyer Tom Goldstein, whose Scotusblog website tracks the court.
"If the same-sex marriage advocates ask the Supreme Court to intervene, it's almost inconceivable that it will decline," he said in a phone interview.
"The justices probably would prefer not to have to decide such a monumental question at the end of their term, but they will be sympathetic to the couples that are in limbo in the meantime," he said. "I would expect that we will hear whether bans on same-sex marriage are constitutional by the end of June."
The cases are DeBoer v. Snyder, 14-1341; Obergefell v. Himes, 14-3057; Henry v. Himes, 14-3464; Bourke v. Beshear, 14-5291; Love v. Beshear 14-5818; and Tanco v. Haslam, 14-5297, U.S. Court of Appeals, Sixth Circuit (Cincinnati).
(An earlier version of this story corrected the location of the Human Rights Campaign.)
Before it's here, it's on the Bloomberg Terminal.
LEARN MORE