Minimum Wage, Marijuana Seen as Paths to Democratic Votes in 2016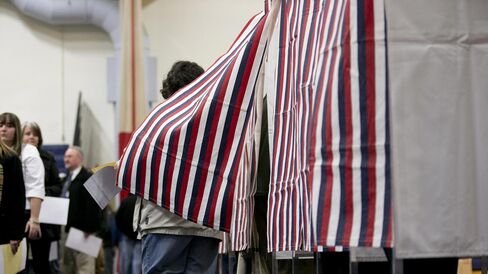 Victories on minimum-wage and marijuana-legalization measures in this week's election show how the issues may be used to draw Democratic voters to the polls in the 2016 presidential election.
The minimum-wage issue could mobilize the Democratic base, just as opposition to same-sex marriage motivated Republicans, said Henry Brady, dean of the Goldman School of Public Policy at the University of California at Berkeley.
"They have to get a larger frame in which they talk about what Democrats are going to be doing to try to ameliorate income differences in America, and minimum wage could be one of the tools they talk about," Brady said.
Voters in all five states where a minimum-wage increase was on the ballot supported it, including Arkansas and South Dakota. In Alaska and Oregon, voters approved measures to legalize the recreational use of marijuana, and efforts are under way to add it to ballots in five states in 2016.
Republicans added measures opposing same-sex marriage to ballots in 11 states in the 2004 presidential election, helping deliver re-election victories for President George W. Bush in nine of those states, including Ohio. For Democrats, minimum wage could draw more minorities and blue-collar workers to the polls, said Arun Ivatury, senior campaign strategist for the National Employment Law Project Action Fund.
Pay Gains
Voters in Illinois, Nebraska, Alaska, Arkansas and South Dakota approved proposals to increase hourly pay rates above the $7.25 federal level. The Illinois proposal is non-binding, said Jim Tenuto, assistant executive director at the Illinois State Board of Elections.
"The size of the victories is significant because the average margin was about 26 points and they occurred in some of the most conservative strongholds," Ivatury said in a telephone interview.
"There should be a growing sense among politicians that this isn't an issue they want to be on the wrong side of," Ivatury said. "Republicans need to start showing concern for the daily struggle that people face trying to make ends meet."
While the National Retail Federation hasn't been lobbying against state or local initiatives to raise wages, it opposes a federal mandate, Bill Thorne, a senior vice president at the Washington, D.C.-based trade group, said by e-mail.
"NRF respects retailers' ability to set their own salaries based upon business considerations and believes that employers, not the government, are best positioned to establish their individual wage scale," Thorne said.
Pot Victories
Marijuana legalization in Oregon, Alaska and the District of Columbia built on victories in 2012 when Colorado and Washington became the first states to legalize recreational marijuana use.
The Marijuana Policy Project, a marijuana advocacy group, has filed to form committees to support 2016 legalization initiatives in California, Arizona, Massachusetts, Maine and Nevada, said spokesman Mason Tvert.
In Alaska, the measure will take effect 90 days after the vote is certified later this month, said Cori Mills, assistant attorney general at the Alaska Department of Law. The Alcoholic Beverage Control Board, tasked with regulating the new marijuana industry, will meet with other state agencies to begin drafting proposed regulations, Mills said.
The Alaska measure limits marijuana possession to 1 ounce and imposes a $50-per-ounce excise tax on sales from a grower to a retailer or marijuana product maker. Consumption in public remains illegal and subject to a $100 fine.
Marijuana Rules
Oregon's measure directs the state Liquor Control Commission to adopt rules by January 2016 to supervise sales of recreational marijuana. It allows personal possession of as much as 1 ounce away from home, if it's out of public view, and as much as 8 ounces at home.
Oregon will start taking licensing applications on Jan. 4, 2016, but the home-use provisions of the initiative will go into effect as soon as July 1, 2015, allowing citizens to grow as many as four plants in their residence, said Rob Patridge, the commission chairman. There's no date set yet for when people could buy marijuana in stores, he said.
"It's a great responsibility to carry out the will of Oregon's voters in a thoughtful and measured way," Governor John Kitzhaber said in a statement. "My priority is to work with local governments to ensure the well-being of our children through industry regulation, education and public safety."
For marijuana initiatives, "their main electoral benefit is to help mobilize younger voters," said Jack Citrin, a political science professor at UC Berkeley.
Ballot measures will probably have less effect on voter turnout in a presidential election than at mid-terms, which typically draw less participation, said John Dinan, a political science professor at Wake Forest University in Winston-Salem, North Carolina.
"In a presidential-election year where contested presidential races are the main drivers of voter turnout, it is unlikely that a ballot measure is going to push too many people to the polls who wouldn't already plan on voting," he said.
Before it's here, it's on the Bloomberg Terminal.
LEARN MORE