Is Hillary Clinton the Biggest Winner or the Biggest Loser of the Midterms?
The answers run the gamut.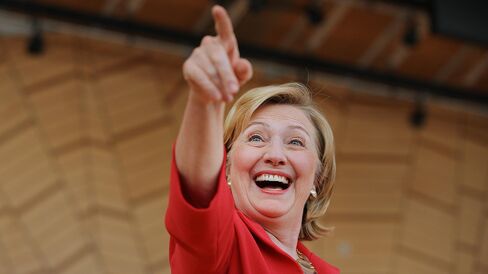 The Republicans won big on Tuesday—or, depending on which part of the bifocals you're peering out of, the Democrats lost bad. President Barack Obama is terribly unpopular, and Americans, on the whole, do not feel their country is going in the right direction—not close. But Obama is done facing national election, and he knows it; he was practically chipper with relief at yesterday's press conference. So the question creeping onto everyone's mind is: How ought the sages of Clinton Land read the midterm leaves?
She's a loser
In the very first hour of the first day after midterms—and therefore to some the very first day of the 2016 campaign—Senator Rand Paul unleashed this clot of virality, complete with a new hashtag:
https://www.facebook.com/media/set/?set=a.10152609510486107.1073741829.54172246106&type=3
In his rundown of the midterm winners and losers, Bloomberg Politics' Mark Halperin put her squarely in the "Loser" column. Whatever her plan was before, Halperin said, "it's all thrown up in the air because no one expected the result they got. ... The party is now in disarray. Hillary Clinton and her team are so cautious–they overthink, overanalyze everything–this gives them a lot of new complexity to deal with."
She needs a vision
In The Washington Post, Jennifer Rubin reduced "Clinton's main selling point [to] her gender identity," then wondered if Clinton would be "as delusional and defiant about the state of the Democratic Party as Obama is." She added:
As the GOP becomes harder to typecast, it becomes harder to think of Clinton as the future of a major political party and a movement that likes to think of itself as progressive. What exactly is she progressing toward and how is she going to get there?
Yuval Levin took a more overtly aggressive tack, in the National Review, writing that "people are bored of her and feel like she has been talking at them forever." Levin saw Tuesday's results as evidence of the Democrats' "overwhelming intellectual exhaustion"—nothing fresh to offer or say. He wrote of Clinton, "She is a dull, grating, inauthentic, over-eager, insipid elitist with ideological blinders yet no particular vision and is likely to be reduced to running on a dubious promise of experience and competence while faking idealism and hope." Ouch.
At The Atlantic, Peter Beinart used milder terms, but similarly considered the Democratic voter's hunger for inspiration. "Her gender alone won't be enough," he wrote. "She lost to Obama in 2008 in part because she could not overcome her penchant for ultra-cautious, hyper-sanitized, consultant-speak."
Actually, she is now golden
So Clinton may have to work on energizing and rebranding, but what candidate doesn't? She sure has the energy—she did 45 campaign events for 26 candidates in 18 states (and Washington, D.C.) in less than two months. It may be her fame and the bath of inevitability around her, but many feel that Hillary's day has come. A good number of journalists found silver linings for Clinton in Tuesday's news.
Writing for Politico, Maggie Haberman noted that "Clinton's major problem was always going to be running as the candidate of the two-term party in power ... but a newly minted Republican Senate helps her to solve the problem of how to run against Washington."
This logic was found in many pockets online. Rick Ungar, in Forbes, energetically announced that the Republican sweep will "make it easier to let Hillary be Hillary." He concluded, "Inside the Clinton camp, the results of the 2014 midterms no doubt feel like a large steam valve has been turned, allowing all that left-wing pressure to release and dissipate." Make no mistake, he said, it is she who emerged on top.
Andrew Romano at Yahoo News followed the same line of thinking, with greater verve and a little more wonk talk. The "easy answer" for 2014 midterm election winner is the Republican Party—but the "long-term winner" is Hillary Clinton. He wrote:
Under the surface, almost everything about last night's midterm results — and the map, the math and the legislative morass that lies ahead in the run-up to 2016 — suggests that the former first lady and secretary of state could have a better next two years than the party currently guzzling champagne.
He detailed how many seats were likely to open up to the Democrats in 2016, and pointed out that, for Mitch McConnell, who "says he wants to compromise with Democrats, it's hard to imagine that he'll be able to control his party's vehement Just Say No caucus for long." Fox News took after NewsBusters in running a headline, "Hillary Clinton won the 2014 midterms? That's what Yahoo says," in which Tim Graham, author of "Collusion: How the Media Stole the 2012 Election and How to Stop Them From Doing It In 2016," lightly mocked Romano. But mostly he just pasted in paragraphs of Romano's column, without bothering to add any words by way of disagreement.
One thing is for sure
Competition is necessary for evolution, and the Democratic party, the week proves, certainly needs to evolve. Clintons always survive, but it's yet to be seen if Hillary Clinton will be the fittest. Inevitability smells stale, especially after Tuesday's shake-up. Her political brand needs spontaneity.
Before it's here, it's on the Bloomberg Terminal.
LEARN MORE