Can Hillary Clinton Save the Democrats?
After a brutal midterm beating, Democrats are looking for a savior.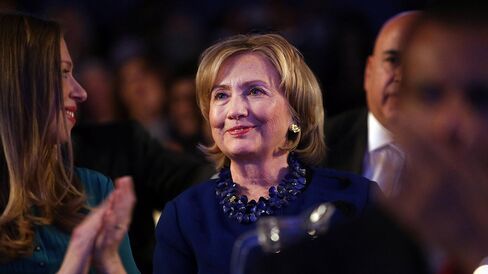 When the week began, one of the biggest challenges Hillary Clinton faced was how to separate herself from an unpopular Democratic president. Now she faces an even tougher task: Saving the Democratic Party.
The conversation that will greet Clinton if and when she finally pulls the trigger on her second presidential run is very different than what she may have expected just a week ago. Weeks before votes were cast, the wide circle of aides, donors, and backers known as Clinton World were already engaged in an internal debate over whether she should announce her candidacy this year. Now, those talks are a piece of a party-wide re-evaluation as defeated Democrats try and figure out what went wrong on Tuesday, when they suffered historic midterm losses and lost their majority in the U.S. Senate.
The difficult political climate, combined with a heavy dose of Democratic anxiety, heightens the already intense pressure on Clinton and her team to confront a series of interlocking political questions. People close to Clinton say she hasn't totally decided whether she's going to run, despite her spot as the Democratic front-runner for nearly two years. She has no campaign structure in place and confidants say decisions have yet to be made on staffing, office space and messaging.
Still, as the losses reverberated through Democratic circles, Clinton allies began positioning her as the one person who can bring the party back. It's a role that mirrors the one her husband took on in 1992, when he offered himself as the embodiment of his party's hopes of renewal. And, in perhaps the biggest irony, it's a similar image to the one that fueled President Barack Obama's underdog primary campaign against a certain New York senator in 2008.
Clinton supporters argue that with Obama weakened by the loss of the Senate, it's easier for Clinton to separate herself from the Democratic president, who's not only the leader of her party but her former boss. And with Republicans running Congress, she can strike a clearer contrast and position herself as a leader not directly engaged in the partisan fray.
"She has an opportunity to articulate what's happening with the economy in ways the president has not,'' said Stan Greenberg, a Democratic pollster who advised former President Clinton. "Everybody expects she's going to offer a different direction."
Groups backing Clinton are planning major events later this month. Correct the Record will hold a donor lunch on Nov. 21 in New York. A day later, donors involved with Ready for Hillary, a super-PAC laying the groundwork for a presidential bid, will meet for a daylong strategy session. The super-PAC, which has its own bus, traveled 40,000 miles during the past five months, stopping at 40 college campuses and dispatching dozens of staff to competitive states. They now boast a list of 3 million supporters and over 100,000 donors.
It's not as though the Clinton team emerged from the midterm elections unscathed. Former Clinton staffer Guy Cecil is the executive director of the Democratic Senatorial Campaign Committee, which spent $60 million in a much-hyped project aimed at expanding the Democratic ground game in the midterms. Another ally, Stephanie Schriock, is the president of Emily's List, which played big in the election and lost some high-profile races.
The Clintons themselves held 109 events for Democratic candidates this cycle, with much of their attention focused on the South. In Kentucky, Hillary Clinton was the star attraction of a splashy Louisville rally and returned to the state 15 days later to address 1,200 supporters at Transylvania University. "Get out there in the next three days and make sure you send Alison Lundergan Grimes to Washington," she said.
The voters didn't listen. Grimes lost Kentucky by 16 points, including a 14-point deficit to McConnell with white women, according to exit polling—a group Clinton was expected to help deliver.
Clinton targeted her campaign speeches to working women, focusing her message on better family leave, equal pay, improved childcare policies. Campaigning for New York Governor Andrew Cuomo in Manhattan last month, Clinton recounted her search for someone to watch a sick, 2-year-old Chelsea when she was due in court for a trial. With no family in town, she found a friend to fill in, although that didn't relieve the worry she felt throughout the day. "Let's not kid ourselves, we have not achieved equality. We have made a lot of progress, don't get me wrong, I'm standing here as a prime example of it," she told supporters. "But we have not yet seen the kind of progress that will ripple out from this ballroom to every woman in New York and beyond."
Republicans were eager to advertise the Clinton losses. Kentucky Republican Rand Paul posted a Facebook album of photos of Clinton campaigning with candidates who lost on Tuesday. Each was tagged #HillarysLosers. The next morning, the Republican National Committee distributed a memo titled, "Hillary's Policies Were On The Ballot."
https://twitter.com/SenRandPaul/status/529866535259865088
"Hillary Clinton and Billl Clinton have been all over the place and trying to make it out as if they're somehow better for Democrats," Paul said on Fox News. "The facts are the facts. Did the Clintons help the ticket? So far, I don't think they have."
Tuesday's results have also emboldened potential opponents within her own party. Senator Elizabeth Warren emerged less scathed. Her supporters are planning a big push on her behalf starting next week, with events in early primary states. "The results show that candidates who are chosen by party insiders aren't always the strongest candidates,'' said Eric Sagran, campaign manager of Ready for Warren, the political action committee advocating for her candidacy. "People want to see candidates who stand up for their convictions."
That message is being echoed throughout the progressive wing of the party, with labor unions and liberal activist groups arguing on Tuesday that the political losses, contrasted with support for minimum wage initiatives, illustrate a desire for candidates willing to push progressive economic policies.
"Democrats lost the Senate tonight because they ran too little and too late on Elizabeth Warren-inspired populist progressive priorities like expanding Social Security benefits, breaking up the big banks, and student loan reform that polls show are overwhelmingly popular with Americans," said Charles Chamberlain, executive director, of the liberal Democracy for America. "The bright spots in this election come from Warren Wing Senate candidates."
Before it's here, it's on the Bloomberg Terminal.
LEARN MORE