Republicans' Good Night Gets Even Better in the House
NBC projects that Republicans will hold 250 seats in the House, when all the races have been decided.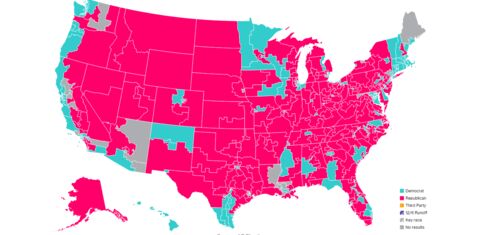 It was such a good night for Republicans in U.S. House races, that an incumbent facing a 20-count indictment for tax fraud even came out a winner.
Staten Island Representative Michael Grimm won re-election despite the fact that he could soon be found guilty of criminal charges, and helped boost the number of GOP seats in the House to 243, up from the 233 seats the party controlled before the midterms, Fox News and NBC both reported. With several outstanding races still too close to call, Republicans were poised to win a total of 250 seats, NBC projected, exceeding the NRCC's stated goal of 245 seats.
Earlier this year, the National Republican Congressional Committee announced its "Drive to 245" initiative, setting a goal to net 12 seats. At the time, in May, it was viewed as lofty.
"President Obama and Nancy Pelosi have failed and now Republicans have the strongest House majority in decades," said NRCC chairman and Oregon Representative Greg Walden in a statement last night.
Democratic Congressional Campaign Committee chairman Steve Israel gave a statement Wednesday, saying, "I won't surgarcoat it."
The Representative from New York said the Democrats did everything they could to hold back the Republicans, and then went on to make a fairly ominous sports comparison.
"As a Mets fan, I've learned to look on the bright side–and we have a strong Democratic Caucus who will come to Congress next year focused on strengthening the middle class and working together on commonsense solutions," Israel said in the statement.
As the Mets fans (almost) say, there's always next cycle.
Before it's here, it's on the Bloomberg Terminal.
LEARN MORE