Raimondo Wins in Rhode Island After Pension Overhaul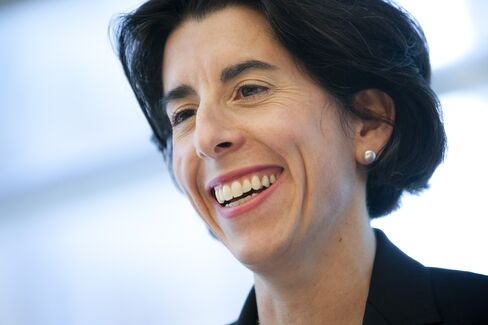 Gina Raimondo became the first Democrat elected governor in Rhode Island since 1992, overcoming opposition from government workers for her role in pushing through cuts to retirement benefits.
The 43-year-old state treasurer and former venture capitalist defeated Allan Fung, the Republican mayor of Cranston, by 40 percent to 36 percent yesterday, with 99 percent of precincts reporting, according to Rhode Island's board of elections. A third-party candidate, Bob Healey, took 22 percent.
As states and cities were reeling from the recession's aftermath in 2011, Raimondo gained national recognition for backing overhauls to Rhode Island's pension system that lifted the retirement age, put workers into 401(k)-type plans and suspended raises for retirees until the system was on a better footing. She built her campaign around her success at cutting pension costs, while pledging to revive the economy.
"Rhode island is ready for a governor that is going to turn this state around," she said in a speech to supporters in Providence after results were in. "It's time to get Rhode Island back to work."
The pension changes, forecast to save $4 billion over two decades, drew support from voters who saw it as a sign of political courage to challenge the public-employee unions that traditionally back Democratic candidates. The steps cost her the support of the unions, who faulted her for pushing the changes through legislation instead of negotiation.
Ripple Effect
Her victory may resonate with other Democrats who are seeking ways to deal with climbing retirement costs, said Darrell West, the director of governance studies for the Brookings Institution, a Washington-based research group.
Nationally, states and local-government pension plans have about $1.3 trillion less than they need to cover promised benefits, according to the Federal Reserve.
"It could embolden other politicians," West said in an interview before the election. "It means that a Democrat can take on public-sector unions on pension reform and survive."
Raimondo overcame criticism from Fung and Democratic challengers for drawing campaign contributions from the finance industry and for steering more state pension money into high-fee hedge funds. Among her supporters is Michael Bloomberg, the founder and majority owner of Bloomberg LP, the parent of Bloomberg News.
Work Ahead
Fung conceded defeat and congratulated Raimondo.
"The next governor of the state of Rhode Island has her work cut out for her on day one," he said.
She becomes the first Democrat to win the state's governorship since Bruce Sundlun's re-election in 1992. She will replace Governor Lincoln Chafee, who won office as a political independent and later joined the Democratic Party. He opted not to seek re-election.
The race focused on how to revive an economy once fueled by factory jobs that have disappeared. The unemployment rate was 7.6 percent in September, third-highest in the nation.
Raimondo said she would seek to boost manufacturing and stoke the economy by putting more money into public works.
A Rhodes Scholar and graduate of Harvard University and Yale Law School, she co-founded a venture capital firm, Point Judith Capital. She was elected treasurer in 2010.
The pension changes Raimondo pushed came after Central Falls became the state's first city to go bankrupt, which eventually forced retirees to accept cuts to pension checks. She said the reductions were needed to prevent rising retirement costs from bankrupting other cities and crowding out funding for schools and other programs.
"When I came into office I inherited a pension crisis," she said. "They said we couldn't fix it, but we did."
Before it's here, it's on the Bloomberg Terminal.
LEARN MORE