More Salt for Democrats' Wounds: GOP Takes Maryland Statehouse
Democrats lose Ocean Blue Maryland.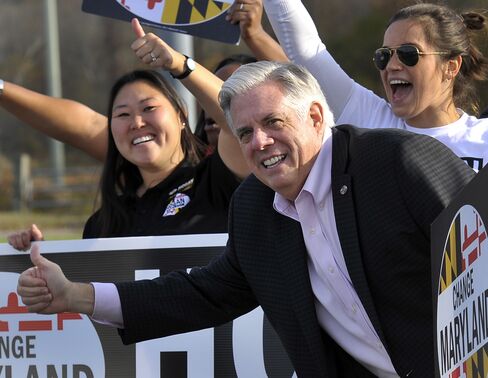 One of the biggest shockers for Democrats Tuesday night was the loss of a governor's race in Maryland—a loss that tarnishes Democratic Governor Martin O'Malley's legacy in the state.
Larry Hogan, a Republican who has never held elected office, won by nine points in the Bay State, according to the Associate Press tally. It was a stunning come-from-behind victory, with polls showing him trailing Lieutenant Governor Anthony Brown by double digits over the summer.
In winning, Hogan overcame both a 2-to-1 Democratic voter advantage and enthusiasm among black voters who make up nearly a third of the population and were hungry to elect the state's first African-American governor. Hogan will govern with a friendlier legislature, as Baltimore Sun reporter Erin Cox noted.


https://twitter.com/ErinatTheSun/status/529996920458969088
Democrats started griping immediately after the loss, with one top strategist complaining that Brown ran away from incumbent Martin O'Malley's record rather than defending it. In 2010, O'Malley faced a similarly difficult national climate against Democrats and defeated his Republican opponent
Another simply said: "It was a terrible, terrible campaign." The source, who requested anonymity so as to speak freely about the Democratic machine's failings, added: "There was just very little enthusiasm out there."
O'Malley,who is eyeing a 2016 presidential bid and hoped to install the state's first African-America governor in his wake. The vote was a repudiation of his economic policies and speaks to his unpopularity at home. However, it's hard to imagine that Iowa caucus-goers care much about a gubernatorial race hundreds of miles away.
Before it's here, it's on the Bloomberg Terminal.
LEARN MORE