Exit Poll: Have Race Relations Worsened?
In the wake of Ferguson, a discouraging set of numbers.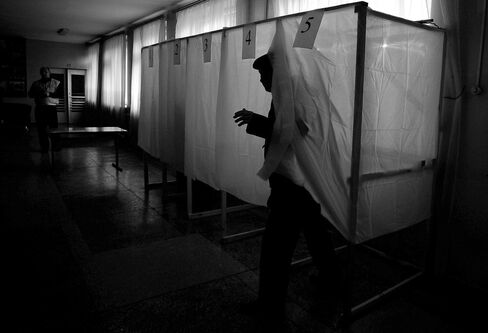 Early exit polling reported by CNN shows that 39% of Americans believe that race relations have gotten worse of late—the same percentage as believe they have stayed the same. (Twenty-one percent of Americans believe race relations in the U.S. have gotten better.) This is a discouraging turn of opinion since President Obama, the country's first black president, took office.
On June 22, 2008, when Obama had just clinched the Democratic nomination for the presidency, a poll conducted by the Washington Post-ABC News showed that almost six in ten people believed that his candidacy had the potential to transform the country's racial politics. By a ratio of three to one, those people maintained that Obama's candidacy would shake up the status quo of race relations in a positive way. At the time, a full two-thirds of Americans who supported his candidacy said that they believed his election would improve race relations.
In Oct. 2009, nine months into Obama's first term, a Gallup poll asked the public about the status of race relations in the country as a result of Obama's election. Forty-one percent of the public at that point believed that race relations had gotten better since Obama's election (Seven percent said a lot better; 34% a little better). Thirty-five percent said that they hadn't changed. Only 22% said they were worse. Two years later, in Aug. 2011, 35% said that race relations had improved—a fall of six percent—and 41% held that they hadn't changed.
The deaths of Trayvon Martin and Michael Brown, two young African-American men shot and killed by law enforcement (Brown by a police officer, Martin by a neighborhood watch volunteer) have brought attention to unhealed racial divisions, especially between law enforcement and African-Americans. It's possible that those incidents—and the current discouraging exit polls—mask a more optimistic picture. But whatever the case, it is probably true that as Darryl Pinckney, the author of "Blackballed," writes in the New York Times today, "Mr. Obama's experience in office has shown blacks the limits of executive power."
Before it's here, it's on the Bloomberg Terminal.
LEARN MORE