Ernst Wins Iowa's Senate Race in State Obama Won Twice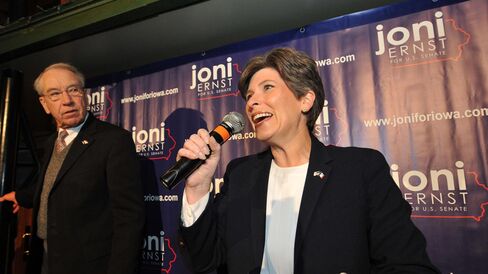 Bloomberg Politics is reporting that Republican Joni Ernst is the apparent winner of Iowa's Senate race.
Ernst, a state senator who made national headlines for her campaign ad about hog castration, faced Representative Bruce Braley, who had been heavily favored before the campaign began.
She is set to replace retiring Senator Tom Harkin, a Democrat first elected to the post in 1984. Before Tuesday, Iowa had not elected a woman to Congress.
http://www.bloomberg.com/politics/graphics/2014-live-results/county-level/#IA

Braley's loss is one of the night's biggest disappointments for Democrats. He was viewed as a strong candidate in a state that backed President Barack Obama in 2008 and 2012.
That was before he was caught on videotape at a Texas fundraiser calling Republican Senator Chuck Grassley of Iowa "a farmer from Iowa who never went to law school," a phrase Republicans labeled as elitist. Iowa, home to about 88,000 farms, is the biggest U.S. producer of corn and soybeans.
A former trial lawyer, Braley tried to paint Ernst as an inexperienced Tea Party extremist, dependent on the billionaire Koch brothers. She presented him as a do-nothing incumbent dependent on environmental extremists.
To win her primary earlier in the year, Ernst fused support from divergent wings in her party, winning endorsements ranging from 2012 presidential nominee Mitt Romney and the U.S. Chamber of Commerce, to former Alaska Governor Sarah Palin and Senator Marco Rubio of Florida.
In her nationally recognized campaign ad, Ernst talked about her rural roots, including her childhood experience castrating hogs and how that might translate to budget-cutting prowess in Washington. She also ran an ad showing her firing a handgun at an indoor shooting range.
Before it's here, it's on the Bloomberg Terminal.
LEARN MORE