Enron Meets Red Grouper as High Court Mulls Evidence Case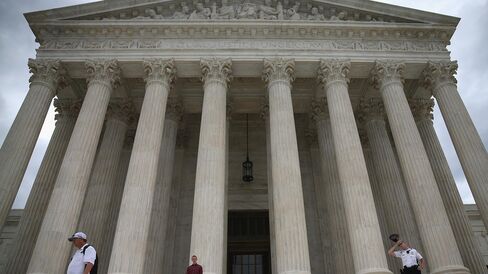 The U.S. Supreme Court wants to know what undersized fish have to do with Enron Corp.
Taking up an issue with broad implications for federal prosecutions of people who destroy evidence, the justices today weighed an appeal from a Florida commercial fisherman who tried to avoid a citation for catching undersized red grouper by having a crewman toss them back into the sea.
John L. Yates was convicted of violating the Sarbanes-Oxley Act, enacted by Congress after the 2001 Enron accounting fraud. Yates was sentenced to 30 days of incarceration, though the law carries a maximum penalty of 20 years.
Several justices made clear they were incredulous, questioning how a law passed in response to a massive business fraud could cover such a relatively minor offense.
"What kind of a mad prosecutor would try to send this guy up for 20 years, or risk sending him up for 20 years?" Justice Antonin Scalia asked during the one-hour argument session in Washington.
"Perhaps," Justice Anthony Kennedy quipped, "Congress should have called this the 'Sarbanes-Oxley Grouper Act.'"
The 2002 law criminalizes the destruction of "any record, document or tangible object" for the purpose of thwarting a federal investigation or proceeding. The question for the court is whether fish qualify under that definition.
Bloodstains, Drugs
The federal government has used the provision to prosecute the destruction of bodies, guns, bloodstains, drugs, cash and automobiles. This year, a jury convicted a man under the law for helping the Boston Marathon bombers conceal physical evidence including fireworks and a jar of Vaseline.
The Obama administration says the provision is a broad one, filling what had been a gap in federal law. It "covers all types of physical evidence," Justice Department lawyer Roman Martinez said.
Yates's lawyer, John Badalamenti, told the justices that the disputed phrase was aimed at document destruction, along the lines of actions by Enron's auditing firm, Arthur Andersen.
Congress "wanted to send a message to the public not to engage in record destruction," he argued.
Business groups are rallying to Yates's side, aiming to restrict the provision to data-storage devices and record-keeping items.
Tangible Objects
Justice Ruth Bader Ginsburg questioned whether Badalamenti's interpretation could be squared with the wording of the statute.
"Congress could have said, 'tangible objects used to preserve information,' and then your case would be solid," she said.
Other justices directed their skepticism at Martinez. Chief Justice John Roberts reacted when the lawyer said Yates had engaged in a "convoluted cover-up scheme."
"You make him sound like a mob boss or something," Roberts said. At another point, Roberts said the government's position would give it "extraordinary leverage."
Justice Stephen Breyer said he worried the provision was so broadly worded it would cover trivial matters such as tearing up a census form or kicking an ember from an illegal campfire.
"You could multiply those beyond belief," he said.
Yates's troubles began in 2007, when a Florida state fish and wildlife inspector boarded his vessel, the Miss Katie, in federal waters in the Gulf of Mexico. The inspector measured Yates's catch and discovered that 72 red grouper were smaller than the 20-inch minimum under federal law.
The inspector ordered Yates to return to port and bring the undersized fish with him. Yates instead told a worker to throw the undersized fish overboard and replace them with other, larger grouper.
The case is Yates v. United States, 13-7451.
Before it's here, it's on the Bloomberg Terminal.
LEARN MORE