The Democrat Who Could Win Even if His Party Loses
New York's Chuck Schumer may see his standing rise if his party falls.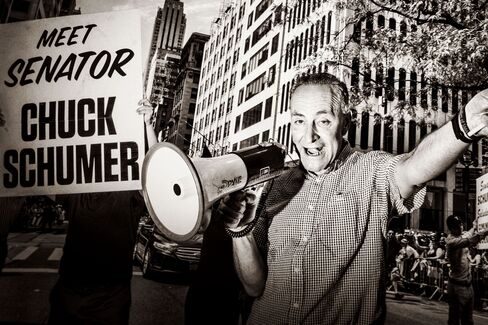 U.S. Senator Chuck Schumer could be his party's biggest winner if Senate Democrats lose their majority tonight.
The notoriously ambitious 63-year-old New Yorker, currently the No. 3 Democrat in the chamber, was unequivocal on Sunday when Chuck Todd asked him whether Harry Reid should be re-installed as majority leader if his party keeps at least 50 seats in the chamber. "Harry Reid will run for majority leader and he will win with an overwhelming, probably very close to a majority vote," Schumer said.
But if Democrats lose the majority? The situation becomes much murkier. A source close to Schumer insists the senator's response on Meet the Press wasn't dependent on an outcome. Schumer believes Reid will seek and win the party's top ranking leadership position no matter what happens tonight, the source said. And Reid's team, too, has maintained that he'll be the Democratic leader of the chamber no matter the outcome of the election.
In this scenario, however, Schumer's and Reid's may not be the most important opinions. Reid is already under pressure internally because of the tight grip he maintains on the chamber. In a July story from the Washington Post, several Democrats spoke on the record about how their leader was at least partially to blame for the gridlock. Todd said on Sunday that "nearly a dozen" Democrats have said they'd like a new leader. Mark Pryor, the Arkansas Senator who's in a difficult race against Republican challenger Tom Cotton, even suggested last month that Reid should be replaced with Schumer. Reid's team is saying the Nevada senator will be the party's leader no matter the outcome tonight.
Schumer has proven himself to be a wily operator in the chamber. He steered the immigration package through the Senate last year, collecting enough Republican support for the bill to pass with legitimate bipartisan support. He oversaw the merging of the party's communication and policy operations in the chamber, which by all accounts has been a success. He was chairman of the Democratic Senatorial Campaign Committee during the 2006 and 2008, when the party picked up a total of 14 seats.
Back in the 2010, when Reid faced a fierce challenge from Sharron Angle, one that he ultimately won, Schumer, a Reid protege, was close to becoming majority leader. If the Democrats lose tonight, he may get the chance again—in two years.
Before it's here, it's on the Bloomberg Terminal.
LEARN MORE