Sarah Palin: Romney in 'Never Never Land' on Immigration Reform
The former Alaska governor's remarks suggest that the GOP might not have the easiest time passing its own bill.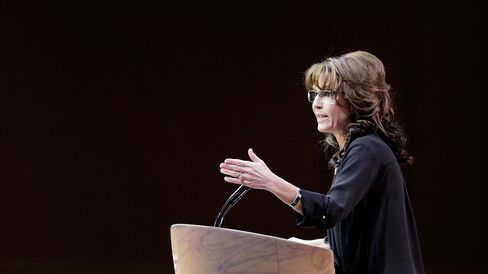 So much for party unity. A day after Mitt Romney confidently predicted that a Republican-controlled U.S. Senate would join together with the House of Representatives and pass comprehensive immigration reform, former Alaska Governor Sarah Palin doused that notion with cold water.
"Where the heck have these GOP establishment types been during this election season? GOP Senate candidates are promising to do everything in their power to stop Obama's lawlessness, including his unjust amnesty that Americans do not support," Palin said in an interview with Breitbart News. "Governor Romney is busy promoting some decent policies; perhaps that's why he clearly hasn't followed today's races because every Republican is campaigning against amnesty and every Democrat gunning for the Senate is campaigning for it. With all due respect, Governor Romney is in 'never never land' on this one."
The differing perspectives on whether immigration reform was possible, or whether the subject should be referred to as anything other than "amnesty," are among the questions facing Republicans should the party take control of the Senate. Romney's view assumes that the GOP-controlled House thwarted immigration reform as a way to thwart Democrats in the Senate and the White House.
"You're going to see a provision, first of all, to secure the border," Romney said over the weekend on "Fox News Sunday." "Second of all, to deal with those who come here illegally. And third, to make sure our immigration policies are more open and transparent. … That's going to happen. You're going to see a bill actually reach the desk of the president if we finally have someone besides Harry Reid sitting in the Senate. So, we're going to get it done."
While the Republican National Committee has warned the party to embrace immigration reform or suffer major losses in future elections, Palin and many conservative lawmakers remain entrenched on the question, and adamantly oppose President Obama's vow to use executive orders to loosen current restrictions.
"Obama's unconstitutional executive amnesty will radically erode American sovereignty, and Harry Reid and his lemmings are determined to protect Obama's amnesty anyway," Palin said. "We can't block funding for Obama's failed policies including amnesty unless we dispatch Harry Reid. This is precisely why constitutional conservatives must win on Tuesday, meaning no votes for U.S. Senate or House candidates of the duped and dense Democrat persuasion."
Before it's here, it's on the Bloomberg Terminal.
LEARN MORE