Georgia's Nunn Slips Into Enemy Territory
Michelle Nunn is seeking to a avoid a Georgia runoff Senate election by drawing votes from unexpected places.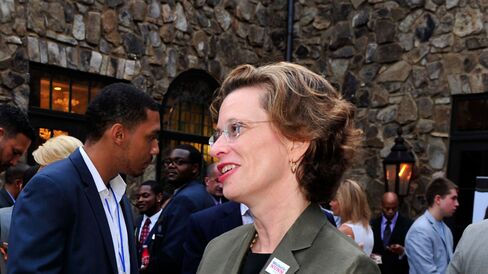 Wrapping up the final push of her U.S. Senate campaign, Georgia Democrat Michelle Nunn ended up in unfriendly territory on Monday, but there was nothing wrong with the GPS in her campaign minivan.
"We want to bring in a broad coalition," Nunn told diners at Ruth's Family Restaurant in the heavily Republican town of Martinez. "And let's get our Republican friends to come out and vote for us."
In a show of confidence (or a last ditch effort), Nunn chose conservative Columbia County in east Georgia as the place to try and win over disillusioned voters with her pledge to teach Washington how to cooperate. A suburb of the city of Augusta, which hosts golf's annual Masters Tournament, the county represents one of the wealthiest communities outside Atlanta. "She'll get walloped in this area," said Brandon Dial, a lawyer who cast an early vote for Nunn, cancelling out his wife's vote for Republican David Perdue. "To be campaigning in this conservative suburban area is a good sign."

After investing time in solidifying her support from one key constituency in what is a narrow path to victory in Republican Georgia—black voters—Nunn has found time to go after the 30 percent of the white vote she'll need to win outright on Election Day. Counties like Columbia could give an early indication how she'll do in the all-important suburban Atlanta. A Nov. 2 WSB-TV poll by Landmark Communications in Atlanta put Purdue at 49.8 percent of 1500 likely voters while 45.6 percent said they backed Nunn. The margin of error is 2.5 percent and 2.2 percent said they were undecided. Libertarian Amanda Swafford got 2.4 percent. If none of the candidates gets more than 50 percent of the vote, the top two contenders will move into a runoff election.

Later today, Nunn will turn her attention to women, who may be the key to getting the white vote she needs. Almost 22 percent of whites in the Landmark poll said they would vote for her. She plans to join female campaign volunteers canvassing neighborhoods in metro Atlanta's Decatur, a town known for its racial diversity and gay population.
The Augusta stop was part of a final statewide swing following the race's last debate Sunday morning, during which Nunn once again hammered Perdue over his outsourcing of jobs. Nunn then loaded up her husband and kids for a 600-mile tour that included stops in Savannah and Macon on her way back to Atlanta.
Back at Ruth's Family Restaurant, owner Dee Garland hurriedly pushed aside Nunn's communications director to pour hot coffee at one of only two round tables in the cramped greasy spoon. Those tables have played host for years to the county's politicians after Ruth Goodbread opened the diner in 1965. "They say Columbia County was planned around those tables," Garland said. As Fox News played on a TV above an urn of sweet tea, Nunn spoke to the group of about 60 supporters and unsuspecting patrons.
Nunn's focus on outsourcing may resonate with white working class voters fed up with joblessness, even though they have abandoned the Democratic party, Dial said. They may be less receptive, however, to Nunn's calls for cooperation and a "spirit of service" in Washington. "Nothing against her, but I don't think anybody's going to get them to work together," said Dial, sitting with his 11-year-old daughter, who was skipping school to attend the event and still dressed in her plaid uniform skirt.
When she swung through Savannah on Sunday evening, Nunn concentrated on turnout. Appearing at one of the city's oldest black churches, she urged supporters to get 10 friends to the polls on Tuesday. Less than 100 supporters gathered in the basement of the First African Baptist Church, where Nunn focused her remarks on raising the minimum wage and preserving social security. Political experts gave Nunn little chance of winning "but we stand today dead even in the polls," she told the whooting crowd. "You all now have the capacity to bring it home."
Nunn was preaching to the choir. Jerome Irwin, a 63-year-old leader of the local trucking union, said he always votes Democrat. He hopes her candidacy is a signal Georgia is shifting after 14 years of Republican domination. "We need to turn the state blue," he said.
Before it's here, it's on the Bloomberg Terminal.
LEARN MORE