Clownghazi and the Birth of the Transitive Property Gaffe
How a non-quote became a life preserver for Kansas's Republicans.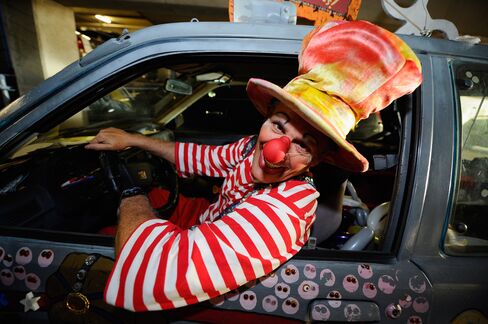 On Halloween, a reporter in Kansas asked Greg Orman about one of the defining trends of his campaign for Senate. As Bloomberg's Lisa Lerer has reported, the somnolent campaign of Republican Senator Pat Roberts managed to almost lose a primary, then fall far behind Orman's independent candidacy, before national Republicans swooped in to save him. Roberts hired new campaign staff, and started playing tour guide for Republican stars as they descended on Kansas–Ted Cruz, Chris Christie, Rick Santorum, Mitt Romney. October 31 had been marked by a Clean Sweep Bus Tour, starring Christie, Indiana Governor Mike Pence, Tennessee Governor Bill Haslam, former Mississippi Governor Haley Barbour, and former Senator Bob Dole.
"Greg," the reporter asked, "how can you compete with the turnout machine that the Republicans have on display today with the big bus tour, with everybody endorsing Senator Roberts and Governor Brownback?"
"It sort of seems like a Washington establishment clown car to me," said Orman. "You know, every day a new person comes out of that car."
Washington Post reporter Elahe Izadi was on the scene for that exchange (the transcript is here), and recorded it in a tweet.
https://twitter.com/ElaheIzadi/status/528293523452215296
Shortly thereafter, Roberts campaign manager Corry Bliss–one of the Republicans paradropped into Kansas to save the campaign–released a statement regarding Orman's "attack today on Senator Bob Dole, Governor Mitt Romney, Congressman Paul Ryan, Governor Chris Christie, and other Republicans."
In the final days of this campaign, Democrat Greg Orman is finally showing Kansans his true colors and revealing his arrogant disdain for Republicans. His liberal personal views aside, for Greg Orman to attack Senator Dole as a Washington establishment clown is an outrage. Few leaders have done more for Kansas and this country than Senator Bob Dole, and Greg Orman should immediately apologize for his slimy attack on Senator Dole and other Republican leaders.
But ... had Orman singled out Dole? He had not; he wasn't even asked about Dole specifically. A new form of gaffe war born: A Transitive Property Gaffe. Orman had been asked about "everybody" on the pro-Roberts tour, and Dole was included in the subset. If the bus tour was a "clown car," ipso facto, Orman had referred to its riders as clowns. That meant he had called Dole a clown. Didn't it? Sort of?
For Republicans, yes. Bliss's original statement was condensed as Republicans began insisting that Orman had called Dole a clown. (See above: He sort of hadn't. Had he wanted to, he could have used the words "Dole" and "clown" in proximity.) Izadhi's own newspaper decided to teach the controversy, telling readers that "a fierce debate centered on whether a Senate candidate had referred to legendary former senator Bob Dole as a 'clown.'" Fox News's James Rosen, on the ground, reported that Dole had received a "lengthy apology" from Orman, and indeed the elder statesman did not seem to be worrying the point.
"My reference to a 'clown car' was commenting on the near-endless number of political supporters of Senator Roberts who have piled out of Washington to support him, none of whom I think are clowns," Orman said. (This was somewhat credible, as the defining characteristic of the "clown car" is that it contains an extraordinary amount of people.) "I certainly wasn't calling you–or any of the others supporting Senator Roberts–a 'clown.'"
Did that end the tete-a-tete? Of course it didn't. The Roberts campaign leapt on the Orman's campaign refusal to call this an "apology" when it was clearly just Orman informing Dole that he had not called him a name. "My opponent is ending his campaign the way he began it," thundered Roberts (via a statement), "trying to have it both ways and refusing to give a straight answer to Kansans on virtually everything, including whether or not he's apologized for insulting Senator Dole."
There would be no retreat: The Roberts campaign would keep on insisting that Orman had used the transitive property and America's inherent mistrust of the miming class to insult Dole. It put out a robocall "alert" to voters, in which a friendly female voice insisted that "Greg Orman attacked Bob Dole and called him a clown," and that the candidate did not "respect American heroes." The only missing element of the call was audio of Orman calling Dole a "clown," probably because Orman had not done so.
Orman, who may still win, had learned a valuable lesson. Anything you do or don't say can and will be used against you.
Before it's here, it's on the Bloomberg Terminal.
LEARN MORE