Why Hillary 2016 Is Unlikely to Commence Until 2015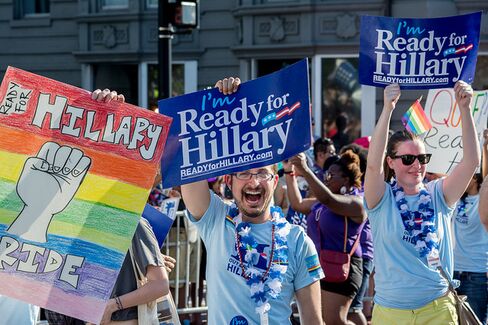 Veteran Hillary Clinton advisers say she shouldn't accelerate her early 2015 timetable for announcing whether she'll run for president, despite calls from prominent backers of President Barack Obama for her to enter the race soon after Tuesday's congressional elections.
In interviews and e-mail exchanges, six political operatives closely aligned with Clinton offered up overlapping lists of reasons why they don't expect her to jump in this year.
She's more popular when she's not directly engaged in electoral politics, she's better off waiting for things to settle out after what's expected to be an ugly election night for Democrats, and she benefits from staying out of the fray while Republican hopefuls start to tear each other apart. Moreover, they note, Clinton said at an event in Mexico City in September she'll decide "probably after" Jan. 1, 2015.
"Can't we get through the holidays first?" asked Paul Begala, the strategist who helped Bill Clinton win the presidency in 1992 and is a consultant for the Clinton-backing super-PAC Priorities USA. "Do we really need to deny her her first Christmas with her first granddaughter? Really?"
Clinton will spend November and December focused on philanthropy, policy matters and baby Charlotte Clinton Mezvinsky, said one Clinton adviser who like most of the others spoke on the condition of anonymity because Clinton is not discussing her plans publicly. A Clinton spokesman declined to comment but pointed to her past statement about timing.
Clinton, Obama
The mostly behind-the-scenes fight revolves around the question of what's best for the party now and for trying to keep the White House in 2016. But it breaks down mostly along an old fault line: Clinton versus Obama.
In September, David Plouffe, the architect of Barack Obama's 2008 primary victory over Clinton, advised her in a private session that she should make her run official sooner rather than later, and mega-donor Steve Mostyn said "if Hillary is going to run, it would be best to do it quickly post-election," according to recent reports in Politico. The New York Times also reported last month that Clinton is getting pressure to rally the party right after the midterms by jumping into the presidential race.
Mostyn and his wife Amber gave $3 million to the super-PAC Priorities USA to help re-elect Obama in 2012, and they were backers of John Edwards in 2008 before Steve Mostyn began donating to Obama that year. They are now max-out donors -- the super-PAC limits contributions to $25,000 -- for the super-PAC Ready for Hillary, which has solicited support from contributors previously associated with Obama, as well as longtime Clinton contributors.
Denying Obvious
If it's not Clinton, other Democrats will have to start assembling their campaigns in earnest soon. And, if it is her, Plouffe said, according to Politico, it would be in her interests to stop denying the obvious. The campaign he ran against her in 2008 operated on the premise that voters didn't trust her, a view that could persist if Clinton is perceived to be pretending not to run while she appears to be doing just that.
Brian Wolff, a former executive director of the Democratic Congressional Campaign Committee who is a longtime supporter of both Clintons, said the former Secretary of State would do well to keep her own counsel, rather than listen to what Obama's strategists want.
"Those people advised him well in winning the presidency, but clearly haven't been consistent on advising him well since," Wolff said of Plouffe and other Obama strategists. "Hillary doesn't need their advice. She's got a great team around her."
Plouffe didn't respond to a request for comment.
Donor Conference
The juxtaposition of Clinton's plans with those who want her to announce sooner rather than later will be in sharp relief in Manhattan on November 21.
Ready for Hillary is convening a donor conference that day at the Sheraton Times Square, where the Clinton Global Initiative holds its annual summits. Clinton will hopscotch across Manhattan but she'll avoid the conference, according to two people familiar with her schedule.
Instead, she'll start her day in lower Manhattan at the Conrad Hotel, where she is slated to preside over a meeting of the Global Alliance for Clean Cookstoves, a public-private partnership initiated by longtime aide Kris Balderston when he worked for Clinton at the State Department. In the evening, Clinton will make her way to Columbus Circle for the New York Historical Society's History Makers gala, where she will be honored.
Campaign Finance
Even if she were a candidate now, campaign finance law would allow her to appear at the donor conference -- so long as she didn't directly solicit money.
Clinton has tried to avoid even the appearance of coordination with the three super-PACs already supporting her potential candidacy. While many of Clinton's closest fundraisers and advisers have been engaged with Ready for Hillary, her November 21 schedule speaks to her desire to let that operation continue to build without her official blessing while she prioritizes apolitical engagements.
One Democratic strategist with ties to the Clintons said she should let the situation settle down after the midterms rather than associating herself with losses that will otherwise be blamed on Obama. Besides, Clinton's fundraising and stump speeches for candidates destined to lose -- as well as those who will win -- are sure to buy her plenty of goodwill within Democratic circles.
War Chests
The adviser familiar with Clinton's planning said she will have to signal her intentions shortly after the new year but should keep a relatively small campaign operation and let the outside groups work on building their war chests, defending her and collecting the names of supporters in the early part of 2015. If she can stand back as Republicans begin jockeying for 2016, she'll benefit, this adviser said, adding that the challenge for Clinton will be to energize her support base without getting overexposed in 2015.
That has been a danger of her recent barnstorming for Democratic candidates, which, along with a bumpy book tour this summer, has hampered her national approval ratings. She can no longer expect that Americans will view her outside the context of electoral politics, say some Democrats on both sides of the question of when she should announce.
"She has been on the stump, which is going to knock down the apolitical luster she gained as Secretary of State and drag her poll numbers back to Earth," Begala said. "I suspect she thinks that's worth it to help all those good Democrats."
Another adviser, who worked with Clinton at State, said he thinks she'll wait as long as possible before making an announcement, provided that she plans to run. Those who are advising her otherwise, he said, are pursuing their own agendas.
Before it's here, it's on the Bloomberg Terminal.
LEARN MORE