Election Tally: One Million Senate Ads
Outside groups are saturating the television airwaves as the Nov. 4 election nears.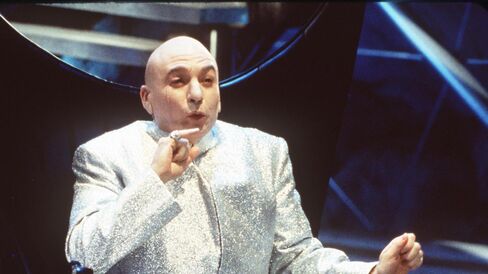 Political ads in the 2014 U.S. Senate elections will have aired more than 1 million times by the time the smoke clears.
The most recent ad-spot count: 908,032, according to data from Kantar Media's CMAG current to Oct. 27. And that includes 83,614 spots in the last seven days of that period.
There really have been more than 1 million Senate ad on all TV stations, if you include local cable stations that aren't included in CMAG's sweep. And there surely will be more than 1 million ads either by Nov. 4 or by the time of a likely runoff in Louisiana on Dec. 6. There may be another runoff in Georgia a month after that.
The Senate-race leader in CMAG's count: North Carolina, where ads in the contest between Kay Hagan and Thom Tillis have run 101,808 times. The total includes television activity before a Republican primary in May that Tillis won outright with the help of groups like the U.S. Chamber of Commerce and American Crossroads, a Republican super-PAC.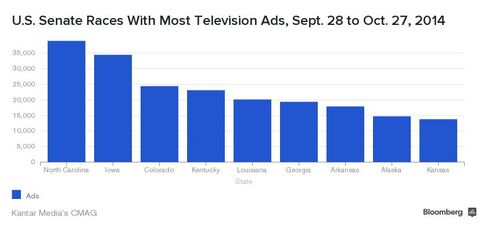 If you look at the broadcast ad spot count for just the past 30 days (Sept. 28 to Oct. 27), or the homestretch of the general-election campaign, North Carolina leads with 38,948 spots. In a race that probably is a must-win for Democrats seeking to hold their precarious 55-45 majority, Hagan and her allies have accounted for 58 percent of those spots compared to 42 percent for Tillis and Republican groups.
Yet Iowa, with less than one-third of North Carolina's population, has seen almost as many ads in that 30-day span (34,455). Democrat Bruce Braley faces Republican Joni Ernst for the seat of retiring Democrat Tom Harkin. The pro-Ernst side accounted for 53 percent of those ads.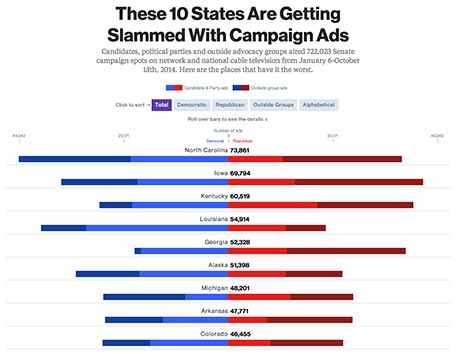 In the Iowa race, Braley and Ernst are saying a lot less on television than their allies—the political party groups, super-PACs and nonprofit issue advocacy groups who have intervened in the contest for months. The two candidates together accounted for just 32 percent of the 34,455 Iowa ads during the past 30 days.
A win by Ernst, in a state that President Barack Obama carried in the 2012 election, would be a body blow to Senate Democrats, who are the defending party in six states that the president lost decisively.
Enjoy this article? Don't forget to follow @BPolitics on Twitter and like Bloomberg Politics on Facebook
Before it's here, it's on the Bloomberg Terminal.
LEARN MORE