What Republicans Must Do in Senate Races They've Seldom Done Before
Republicans have struggled in past elections to unseat Democratic incumbents. Will the Nov. 4 election be different?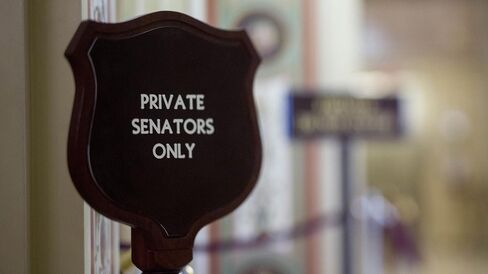 The path to a Republican U.S. Senate majority involves defeating multiple Democratic incumbents. It's not a well-trodden road.
Depending on the outcome of various races, Republicans could have to unseat at least three incumbents to take over the Senate. They haven't done that in 34 years. (They beat nine in the 1980 Ronald Reagan landslide.)
Overall, Republicans need a net gain of six seats. They'll probably get halfway there with by winning races to replace retiring Democrats in Montana, West Virginia and South Dakota, all states unfriendly to President Barack Obama. Republicans may also wrest away the Iowa seat of retiring Democrat Tom Harkin; polls have Republican Joni Ernst slightly ahead of Democrat Bruce Braley. A fifth Democratic open seat in Michigan has swung in the Democrats' direction and now appears out of reach for Republicans.
So this means Republicans must defeat at least two Democratic senators, if they also win Iowa. But Republican incumbents also face tough challengers in Kansas, Georgia and Kentucky, and if any of those fall, the GOP's math gets harder.
Six Democratic senators are in tight races: Mark Pryor in Arkansas, Mary Landrieu in Louisiana, Mark Begich in Alaska, Kay Hagan in North Carolina, Jeanne Shaheen in New Hampshire and Mark Udall in Colorado. Landrieu almost certainly is headed for a Dec. 6 runoff with Republican Representative Bill Cassidy. Republican strategists have repeatedly brandished Senate vote statistics to link the Democratic senators to the unpopular president.
The Republicans' obvious goal is to win the majority, though they would also like to pick up some insurance seats for the 2016 election, when the Senate election map favors Democrats.
Here's a chart that details Democratic and Republican senators who have been defeated in general elections dating to 1994: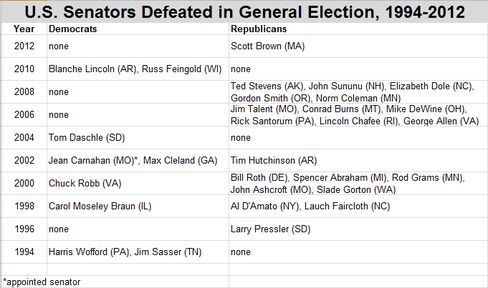 Before it's here, it's on the Bloomberg Terminal.
LEARN MORE