Jeb Bush Criticizes Obama on Ebola, ISIS, Life in General
He calls the Ebola response "incompetent" and foreign policy an "unmitigated disaster."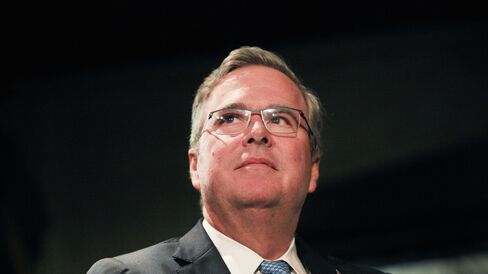 Jeb Bush railed Tuesday against President Barack Obama's response to cases of Ebola in the United States, while also blaming him for the rise of the Islamic State and dropping one or two 2016 breadcrumbs.
At a guest lecture at Vanderbilt University in Nashville, Tenn., Bush said the president has not done enough to allay anxieties about the virus, according to the Associated Press.
"It looked very incompetent to begin with, and that fueled fears that may not be justified," he said.
The former Florida governor pointed to his own handling of an anthrax incident in 2001, when the poisonous compound was sent to a tabloid newspaper, as an example of better crisis management.
"We gave people a sense of calm, what the plan was," he said. "We talked in plainspoken English. We were totally engaged."
He also said Obama's foreign policy caused an "unmitigated disaster" when it comes to the Islamic State.
Asked about potential presidential ambitions, Bush said "that he would wait until the end of the year before consulting with his family about whether to make a run for president," according to AP.
"If it's a yes, I guess you go in the Batcave," he said. "You try to acquire some superhuman skills, which I definitely will need, because I'm imperfect in every way. ... I'm totally blessed ... so I'm not like really freaking out about this decision."
His comments come after The New York Times recently reported that his family was "largely rallying behind the prospect" of a presidential bid.
Before it's here, it's on the Bloomberg Terminal.
LEARN MORE