If Polls Hold True the GOP Will Take Over the Senate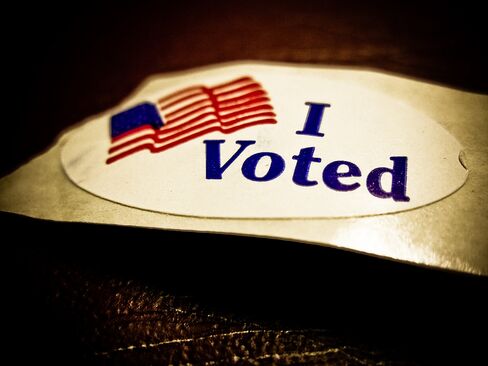 Democrats weren't exactly singing hallelujahs on Sunday. With a little more than a week before Election Day, new polling of key Senate races showed that if anything, momentum in the midterm election may be tilting—however slightly—toward Republicans.
A joint survey by NBC and Marist College gave GOP candidates an edge in five battleground contests—Colorado, Iowa, Kansas, Arkansas and North Carolina—though all of the races were within the margins of error. South Dakota, a contest Democrats hoped was in play, appears far out of reach.
The NBC/Marist College results were released the same day YouGov made public its most fourth and final survey with CBS and the New York Times, also showing signs of a comeback for Senator Pat Roberts in Kansas. The Republican incumbent is now polling ahead of independent candidate Greg Orman, who became the unexpected favorite in that race after Democrats were allowed to drop their candidate from the ballot.
If true, the Roberts edge may give Republicans a little room to breathe on election night. Orman has not said which party he would caucus with if elected, but the possibility that he would side with Democrats raises the threshold of other races the GOP needs to win in order to secure a majority in the U.S. Senate.
Here's a comparison of the two new polls:
KANSAS
The last time NBC/Marist polled in Kansas, Orman held a double-digit lead over Roberts earlier this month. Since then, Republicans have hammered Orman with attacks tying him to President Obama, an strategy that appears to be taking its toll. According to the poll released Sunday, Roberts has closed the gap, trailing now by one point (45 percent to 44 percent).
YouGov, meanwhile, now has Roberts up 42 percent to 38 percent.
COLORADO
The NBC/Marist poll shows Cory Gardner, the Republican challenging Senator Mark Udall, with a single-point lead among likely voters (46 percent to 45 percent), despite the incumbent's advantage with women voters in the state. That's a 180-degree flip from last month, when Udall had a six-point advantage.
YouGov shows Udall and Gardner virtually tied, as well, with the Democrat leading 47 percent to 46 percent—a margin that has continued to shrink as November 4 nears.
IOWA
In the race to fill the seat of retiring Senator Tom Harkin, the NBC/Marist poll shows Republican Joni Ernst out ahead of Bruce Braley (49 percent to 46 percent), which is a slight improvement for Ernst from where this toss-up race stood last month (46 percent to 44 percent).
YouGov, on the other hand, says its neck-and neck—tied at 44 percent. Ernst was trailing by one percentage point in September.
ARKANSAS
Perhaps the best news for Democrats on Sunday was that Tom Cotton, the Republican challenging Senator Mark Pryor, saw his lead in the NBC/Marist poll shrink to just two points. In September he was leading by five points. Cotton is still ahead 45 percent to 43 percent.
YouGov still places this race in the "likely Republican" category, with Cotton pulling 47 percent, and Pryor is behind with 42 percent.
NORTH CAROLINA
Senate Kay Hagan may be losing her edge in this crucial state for Democrats, with NBC/Marist showing her now tied at 43 percent of the vote with state assembly speaker Thom Tillis. Sean Haugh, the libertarian and pizza deliveryman who remains an Achilles' heel for Tillis, pulled 7 percent of the vote. Hagan was up four percentage points earlier this month.
YouGov still has Hagan with a three point lead in the race (44 percent to 41 percent), which is slightly wider lead than she got in that survey showed her essentially tied last month.
SOUTH DAKOTA
If Democrats were still clinging to hope that this race would suddenly be in play—or at the very least siphon off money Republicans could be spending elsewhere—NBC/Marist did not bring good news. Mike Rounds, the Republican frontrunner who has appeared more vulnerable than expected in recent weeks, now boasts a commanding 43 percent of the vote, a 14-point lead over Democrat Rick Weiland's 29 percent. Independent Larry Pressler, thought to be a possible threat to Rounds, received16 percent.
YouGov shows a tighter race for second place between Pressler (21 percent) and Weiland (25 percent), but with 38 percent of the vote, Rounds still leads by double digits.
Before it's here, it's on the Bloomberg Terminal.
LEARN MORE