Who Was Doing Better at the 6-Year Mark: Obama or Bush?
Two presidents show that it's a struggle to satisfy voters by their sixth year in office.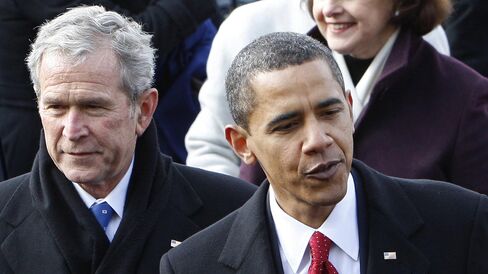 Imagine this, if you can. Charlie Crist is in the heat of a campaign to be Florida's next governor, and he doesn't seem to want any help from the leader of the free world. Easy to picture, right? That's because it happened in 2006, and history is repeating itself so far this year.
Right about this time eight years ago, Crist was a Republican and closing in on a victory to succeed then-Governor Jeb Bush when, to the chagrin of the White House, Crist snubbed President George W. Bush (and his 30-something approval rating) in Pensacola to instead visit Lox Around the Clock bagel shop near West Palm Beach. Today, Crist is a Democratic candidate for governor and with two weeks to go until Election Day, Florida isn't on the list of six governor's races that President Barack Obama (and his 40-something approval rating) is planning to campaign in.
The similarities between the two presidents during their sixth year in office transcend both men as well as anything going on in Florida. It's what political pros have long known as "the six-year itch," when the president's party inevitably loses seats in Congress and, as forecaster Charlie Cook puts it, party leaders are out of ideas, the president's original staff has mostly bailed, and weary voters are looking elsewhere.
So other than getting dropped by Charlie Crist, what are the other irritations Obama and Bush share after six years? Here are some of the similarities—and differences—between the two presidents.
Approval Ratings: Edge Obama
Though he's near a record low, Obama (41 percent) has an edge over Bush (37 percent) at this same point eight years earlier, but not by much. Both presidents were right around 50 percent approval before their respective re-election campaigns. In their first mid-term elections, Obama was in the mid-40s, while Bush was in the mid-60s. Here's the year-to-date comparison from Gallup:
Economy: Edge Bush
There's always a little shuffling in the top issues American's are thinking about heading into an election. (Ebola has made its debut on the list of Americans' top problems.) One of the constants, of course, is the economy. Here's a look at the average quarterly growth of U.S. gross domestic product during each president's first five and half years. Fairly obvious note here, but the 18-month recession didn't start until Bush's seventh year in office, and stretched into the start of Obama's first.
Chiefs of Staff: Obama 5, Bush 2
Incredibly, Andrew Card lasted almost five and a half years as Bush's chief of staff, longer than anyone except Sherman Adams in the Eisenhower administration, until Joshua Bolton took over in April 2006 and stayed until the end of the second term. Obama, meanwhile, is on his fifth chief of staff, Denis McDonough, in six years, more than any president since Truman. That list, which includes an interim staff chief at the end of 2010, could grow again. Ron Klain, Obama's new Ebola czar and who was a contender for the job last time, is being rumored as a possible replacement for McDonough.
Katrina Moments: Bush 1, Obama ∞
President Bush had only one Hurricane Katrina, of course. But the term is now used almost every time a crisis appears to be poorly handled by the White House. David Weigel found nine instances for Obama in a report last year. The latest is the Ebola outbreak in West Africa and the cases that have been reported in the U.S. The Christian Science Monitor went for the best of both worlds, claiming Ebola is and it isn't another Katrina for the 44th president.
Here are a few other examples of politicians, political operatives and news outlets comparing crises under Obama's watch to the Bush's administration's response to the most destructive hurricane in U.S. history:
Immigrant children at the U.S.-Mexico border (July 2014 via Texas Governor Rick Perry on Fox News)
Texas Gov. Rick Perry jumped on the "Katrina" wagon Thursday, comparing an influx of Central American refugees to the devastating 2005 hurricane that killed more than 1,800 Americans and nearly destroyed New Orleans.

The comparison, used by other Republicans in recent days, is not to meant to highlight the significance of the border crisis. Instead, it is an attempt to portray President Obama as out of touch in much the same way that his predecessor George Bush was seen when he decided to fly over Louisiana as tens of millions of residents were suffering, sick or left homeless.

"I think about the criticism that George W. Bush received when he didn't go to New Orleans [during] Katrina, this is no different," Perry said.
Obamacare website snafus (November 2013 via The New York Times)
"The disastrous rollout of his health care law not only threatens the rest of his agenda but also raises questions about his competence in the same way that the Bush administration's botched response to Hurricane Katrina undermined any semblance of Republican efficiency."
Deepwater Horizon oil spill (May 2010 via Karl Rove)
"Could this be Mr. Obama's Katrina? It could be even worse."
Countries Bombed: Obama 8, Bush 6
We'll look to the arbiters at Politifact for the rundown. They count Iraq, Afghanistan, Pakistan, Somalia and Yemen for Bush. Under Obama, those countries have all been bombed in addition to Libya and Syria plus unconfirmed drone attacks in the Philippines during both administrations.
Senate Battlegrounds: Draw
When Bush cast his own ballot back in Crawford, Texas, in 2006, his party was just hours away from losing control of the House and the Senate in an election in which Republicans were plagued by corruption scandals, a costly war in Iraq and an unpopular president. Bush kept a low profile by staying out of competitive Senate races—which that year included Arizona, Montana, Missouri, Tennessee, Ohio, Pennsylvania, New Jersey, Maryland and Virginia—and instead sticking to safely conservative areas, like Florida's Panhandle and the governor's race in Arkansas.
This time around, it's not looking like quite so large a wave for Republicans, although most forecasters expect the party to take control of the Senate for the first time in a decade. And that means Democrats seeking re-election are finding their own ways to tell an increasingly unpopular Obama to sit this one out. Mark Halperin and John Heilemann have a good map on this segment of "With All Due Respect" that shows the competitive Senate races and Obama's recent travel.
Before it's here, it's on the Bloomberg Terminal.
LEARN MORE