Poll Palooza: Illinois Gubernatorial Race Tied, GOP Still Coasting in Texas
New polls show competitive races in Illinois, New Hampshire, and Colorado but, to no one's surprise, not in Texas.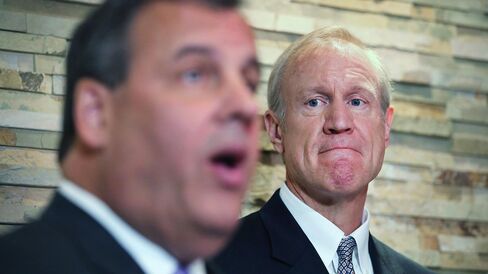 With 12 days until the midterm elections, it's becoming clear which races will come down to the wire and which contests aren't competitive at all. As several new polls show, Colorado's gubernatorial race and New Hampshire's Senate race are still statistically tied, while Democrat Wendy Davis's longshot run for Texas governor is as unlikely now as it was last year.
The only surprise in the list is Illinois, where a poll released Thursday by the Chicago Tribune shows Republican Bruce Rauner pulling even with Democratic Governor Pat Quinn. Here's where the four races stand, according to fresh polls:
Illinois
Last month, the Chicago Tribune poll had Quinn at an 11-point advantage. The newest Tribune poll of 800 likely voters, conducted Oct. 16 to 21 by phone, found Quinn at 43 percent of the vote to Rauner's 45 percent, within the poll's margin of error of 3.5 percentage points.
According to the Tribune, the tightening of the race is a result of Rauner improving with suburban voters, particularly women. Seven percent of voters are undecided.
Colorado
The latest Quinnipiac University poll shows Democratic Governor John Hickenlooper polling at 45 percent among likely voters compared to 44 percent for his Republican opponent, former Representative Bob Beauprez, well within the poll's 3.1 percentage point margin of error.
While the race is tied, the results are an improvement for Hickenlooper — an Oct. 15 Quinnipac poll showed him at 42 percent to Beauprez's 46 percent. According to the latest poll, 7 percent of likely voters are undecided and 8 percent of decided voters said they might change their minds. Quinnipac interviewed 974 likely voters via cell phones and land lines between Oct. 15 and 21.
New Hampshire
The Senate race between incumbent Democrat Jeanne Shaheen and former Massachusetts Senator Scott Brown is still a dead heat, according to the latest CNN/ORC poll. Among 645 likely voters interviewed between Oct. 18 and 21 by phone, Brown pulled 49 percent of the vote to Shaheen's 47 percent. The poll's margin of error is 4 percentage points.
A Sept. 15 CNN/ORC poll of 735 likely voters found that both candidates tied at 48 percent. That poll's margin of error was 3.5 percentage points. The latest poll also shows that President Obama's abysmal approval rating in the state (38 percent in September and 39 percent in October) hasn't budged.
Texas
The latest University of Texas/Texas Tribune poll has no good news for Davis. It shows her trailing Republican Attorney General Greg Abbott 38 percent to 54 percent. Abbott even leads with women by 2 percentage points.
"The drama of the outcome is not who wins, but what the margin will be," Jim Henson, head of the Texas Politics Project at the University of Texas at Austin, told the Texas Tribune. "Wendy Davis has not led in a single poll in this race." The poll included 866 likely voters in an Internet survey from Oct. 10 to 19 and had a margin of error of 3.33 percentage points.
Before it's here, it's on the Bloomberg Terminal.
LEARN MORE