Elizabeth Warren and the 'Amazing Doors that Could Open'
Elizabeth Warren gives her least-negative answer to a 2016 presidential question.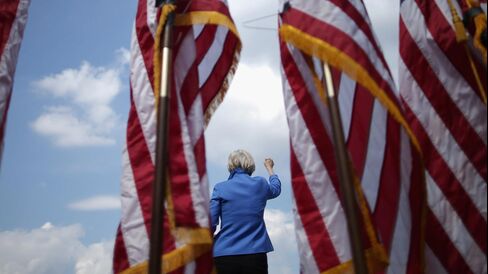 Here is how Sen. Elizabeth Warren answered when asked, by the Boston Globe, if she would run for president in 2014. This was in December 2013.
I am not running for president. I am working as hard as I can to be the best possible senator that I can be and to fight for the things that I promised during my campaign to fight for.
Here is how she answered the question in May 2014:
I am not running for president. No, no, no, no, no.
Here is how she answered the question in July 2014:
I'm going to give you the same answer I have given you many times. There is no wiggle room. I am not running for president. No means no.
And so on, and so on, until this week -- when Warren was nagged one more time about 2016 by People magazine's Sandra Westfall.
Is the freshman senator from Massachusetts herself on board with a run for the White House? Warren wrinkles her nose.

"I don't think so," she tells PEOPLE in an interview conducted at Warren's Cambridge, Massachusetts, home for this week's issue. "If there's any lesson I've learned in the last five years, it's don't be so sure about what lies ahead. There are amazing doors that could open."

She just doesn't see the door of 1600 Pennsylvania Avenue being one of them. Not yet, anyway. "Right now," Warren says, "I'm focused on figuring out what else I can do from this spot" in the U.S. Senate.
Warren's office has informed reporters that "nothing has changed," and that her pre-People interviews remain the gold standard. The people who want a progressive senator to challenge Hillary Clinton for the Democratic nomination -- a bold idea that no one had thought of until recently -- are less convinced.
"I see it as her opening the door to running in 2016," says Erica Sagrans, who in July of this year launched a draft campaign called Ready for Warren.
What is it, really? Sagrans's campaign has been pre-denounced by Warren herself, in a letter to the FEC that insisted there was no presidential campaign in the offing. (If there was, it would limit some of what Warren can do.) Its activity today largely consisted of social media updates about how Warren's new comments were good reasons to sign on for draft campaign news. The big moves, as Sagrans has been saying, will come after the election.
But the problem, as Alex Seitz-Wald keeps reporting, is that the "door" through which Warren can metaphorically stroll, while amazing, is Alice-in-Wonderland tiny. Ready for Warren, which has not pretended to compete one-to-one with the pro-Clinton PAC Ready for Hillary, has attracted seed money but nothing like the latter PAC's millions. And ten months after Noam Scheiber's cover story in The New Republic floated the possibility of a Warren run, polling data has found Warren better-known among progressives but not taking advantage of disquiet with the Clintons. There just isn't enough of that to exploit.
As in 2008, Hillary Clinton remains the popular choice of Democrats making less than $50,000. As in 2008, she remains phenomenally popular with white Democrats. Unlike in 2008, when a black senator was able to slice into her base, Clinton is even more popular with non-white voters -- Warren, in the new ABC News/Washington Post poll, wins over just 4 percent of the group that increasingly dominates party primaries.
Before it's here, it's on the Bloomberg Terminal.
LEARN MORE