Christie Has 'Head in Sand' on Minimum Wage, Labor Chief Says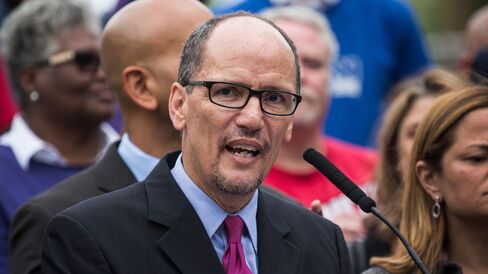 New Jersey Governor Chris Christie has "got his head in the sand" when it comes to the plight of minimum-wage earners in his state, U.S. Labor Secretary Tom Perez said.
"I've met with minimum-wage workers in New Jersey," Perez said today at a Bloomberg News event in Washington. "I've met with folks who -- the only raise they got, they're baggage handlers at Newark Airport, and the only raise they got was when the voters increased the minimum wage."
President Barack Obama and his administration have been pushing Congress to raise the federal minimum wage to $10.10 an hour from $7.25. Most Republicans in Congress and many Republican governors, including Christie, oppose the increase. The Democratic-led Senate has tried and failed repeatedly to advance the issue, and House Speaker John Boehner has said his Republican-led chamber won't consider it.
"All the Democrats and the president want to talk about is minimum wage," Christie, 52, told reporters today at a diner in Bordentown, New Jersey, where he was campaigning for congressional candidate Tom MacArthur, a Republican from Toms River. "The reason they want to do that is because they have not had the kind of growth in this country that we should be having in terms of wages and better jobs."
Approved Increase
New Jersey voters last November approved a constitutional amendment that will increase the state's minimum wage by 13 cents an hour -- to $8.38 -- starting in January 2015. Twenty-three states and the District of Columbia have set their minimum wages above $7.25 an hour.
The U.S. federal wage floor ranks third-lowest -- as a percentage of median wage -- among the 34 member countries of the Organization for Economic Cooperation and Development, a status that Perez said was embarrassing.
"I mean, we suck," Perez said. "We really do."
Democrats are trying to make Republican opposition to policies like raising the minimum wage a liability in the Nov. 4 election. The comments by Perez, 53, who is said to be under consideration to replace Eric Holder as attorney general, signal that Obama's party may want to carry the issue into the 2016 presidential election, in which Christie could be a contender.
'Getting Tired'
"Chris Christie's got his head in the sand if he's getting tired about the minimum wage," Perez said, referring to comments the New Jersey governor made Oct. 21 at a U.S. Chamber of Commerce event. "Chris Christie needs to talk to his economists, who will tell him that 70 percent of GDP growth is consumption."
Christie said at that event that he was "tired of hearing about the minimum wage," adding that parents "aspire to a greater, growing America, where their children have the ability to make much more money and have much greater success than they have, and that's not about a higher minimum wage."
Asked whether he was qualified to succeed Holder as attorney general, Perez -- a former head of the Justice Department's civil rights division -- replied, "I'm qualified to be labor secretary right now."
"That's where my focus is and will continue to be," he said.
Before it's here, it's on the Bloomberg Terminal.
LEARN MORE