The Worst Campaign Ad That Human Beings Actually Paid for This Year
A breathtakingly bad GOP ad in the one Senate race that's going great for Democrats.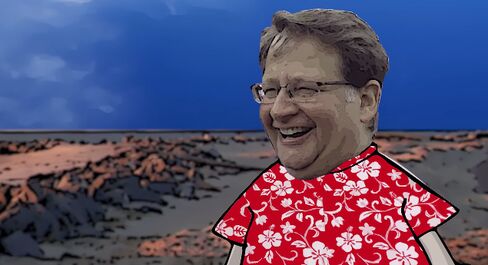 Michigan's race for U.S. Senate is the sick man of the GOP's electoral map. Halfway through the cycle, Republicans were talking optimistically about snatching back a seat in a historically competitive state; I clearly remember Republican National Committee chair Reince Priebus, around the time of the State of the Union, telling me that Michigan was worth looking at closely.
Ten months later, Democratic Representative Gary Peters is clearly in command of the race against Republican Terri Lynn Land. Marin Cogan has a nicely turned piece about some of the reasons (tl;dr version: Peters has made himself relatable while struggling Dems like Mark Udall and Bruce Braley have allowed themselves to look unlikable) why Peters has led almost every poll since April. Enter the Michigan Republican Party, which put together these 30 seconds in an effort to remind voters that Peters took money from loan sharks.
It's true that Peters' campaigns took money from two men who have been convicted in connection with an illegal lending scheme—one man gave $7,400 to Peters, all before his arrest; the other, $6,100 in total but $1,250 after his arrest in 2012. The campaign says the donations have been returned.
http://www.bloomberg.com/politics/graphics/2014-election-ads/filterRace.html?Race=SENATE%2FMI&Air%20Date=Jan%20%207%20-%20Oct%2013&
Where to start with this ad? There's the animation, which puts Peters' head on the body of the Hawaiian Punch man, who moves with the grace of a broken pixel. There's the narration, which sounds like the work of a man wracked with embarrassment about what he's come to. There's the Sharknado theme, which was a meme last year and is currently as played out as "Keep Calm and [Verb]" T-shirts.
That theme grows directly out of a Washington Free Beacon story about Peters from this summer. The WFB has become an underrated player in Senate races. When Republicans like Thom Tillis started browbeating Democrats for skipping Senate hearings, they were citing the WFB. When Republicans like Cory Gardner and Joni Ernst attacked their opponents over their hypocritical "pay gaps," they were citing the WFB.
But the products of "combat journalism" need not be as chintzy as this "Sharknado" spot. Thanks to Electablog for pointing it out. (Further reading: Marc Caputo on how Rick Scott's campaign has discovered that Charlie Crist is fond of Barack Obama, and hopes to inform voters of this.)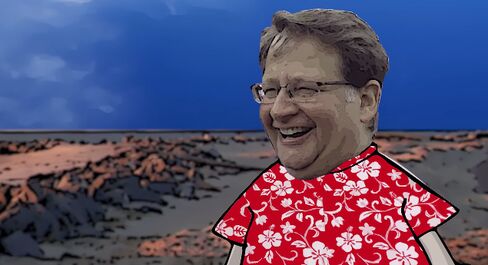 Also on Bloomberg Politics: The Lewinsky Scandal: Where Are They Now (On Twitter)