Steven Spielberg and George Soros Stock Senate Democratic Super-PAC
They're among the biggest donors to the campaign to keep Harry Reid the Senate majority leader.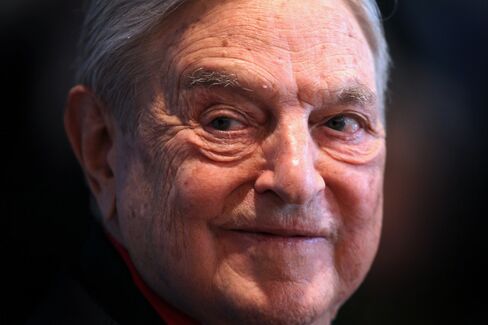 George Soros, Laurene Powell Jobs and Steven Spielberg are among the biggest donors to the campaign to keep Harry Reid the Senate majority leader.
Soros and Powell Jobs (Apple co-founder Steve Jobs's widow) each gave $500,000, and Spielberg donated $250,000 last month to Senate Majority PAC, a super-PAC run by the Nevada senator's political advisers to defend the Democrats' 55-45 Senate majority. It's the main Democratic outside group trying to block Republicans from making a net gain of six seats.
Ian Cumming, the former CEO of Leucadia National Corporation, and the Arkansas-based HFNWA, LLC each gave $1 million to Senate Majority PAC last month. The American Federation of Teachers contributed $850,000.
Senate Majority PAC has spent $36 million on TV ads and other media communications in 10 Senate races during the 2014 election cycle, according to the Center for Responsive Politics. It's also transferred about $8 million to an Alaska-based super-PAC that's handling the outside effort to re-elect Democratic Senator Mark Begich.
Super-PACs may accept donations in unlimited amounts to run so-called independent expenditures that directly advocate for the election or defeat of candidates. PACs filing on a monthly schedule have until midnight Monday to file reports detailing their donors and spending for September.
Here's a look at September activity by some other super-PACs that filed FEC documents ahead of Monday's deadline.
American Crossroads
The Republican super-PAC advised by Karl Rove raised $11.4 million in September, more than it took in the previous eight months combined. It received $2 million from billionaire B. Wayne Hughes Sr., the non-executive chairman of American Homes 4 Rent, and $1.25 million from billionaire investment-firm executive Paul Singer.
TRT Holdings, which was founded by Robert Rowling and owns Omni Hotels and Gold's Gym, sent $1 million to American Crossroads. Linda McMahon, the wrestling company executive who ran for the Senate from Connecticut, donated $700,000. The super-PAC had $9 million in the bank as October began and is targeting Democratic-held seats in states like Alaska, Arkansas and Iowa.
House Majority PAC
A super-PAC aiding House Democrats raised $4.4 million in September from donors including Robert F.X. Sillerman ($500,000), the chief executive of New York-based Viggle Inc., and California philanthropist Eli Broad ($100,000). Republicans are expected to keep their majority in the House and may expand it.
League of Conservation Voters Victory Fund
The super-PAC arm of the environmental group took in $2 million, including $500,000 from the American Federation of State, County and Municipal Employees (AFSCME). LCV Victory Fund is aiding Democratic senators in tough re-election races.
New York 2014
Singer, McMahon, Chicago hedge-fund executive Ken Griffin, investment banker Dan Loeb and TD Ameritrade founder Joe Ricketts accounted for nearly all of the $830,000 raised by a super-PAC working to elect Republican Elise Stefanik to an open Democratic seat in New York's North Country. Stefanik, a White House aide during George W. Bush's administration, is favored to defeat Democrat Aaron Woolf.
Ending Spending Action Fund
Ricketts' political operation took in $10.5 million in September. The usual suspects are on the donor list: Ricketts himself ($2.7 million), Singer ($1 million), Griffin ($800,000) and McMahon ($750,000). Robert Mercer, a Republican mega-donor who heads a New York-based hedge fund, gave $1 million to Ending Spending Action Fund, which bills itself as a group that backs candidates who support "enhancing free enterprise, reducing the size of government, and balancing our nation's budget." Its top targets include Senate races in Georgia and New Hampshire. In Kansas, it is attacking independent businessman Greg Orman, who's seeking to unseat Republican Senator Pat Roberts.
NextGen Climate Action Committee
Billionaire climate-change activist Tom Steyer gave $15 million more to his super-PAC, bringing to $41.6 million his aggregate donations to the group. NextGen is opposing some Republican candidates for the Senate and governor whose environmental records Steyer finds wanting.
Before it's here, it's on the Bloomberg Terminal.
LEARN MORE