Obama Will Now, Finally, Return to the Campaign Trail
The president is aiding Maryland Democrat Anthony Brown, a candidate for governor, in one of the nation's strongest Democratic areas.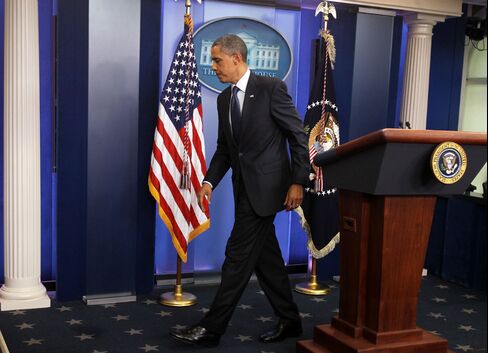 Hobbled by poor approval ratings and a fast-changing Ebola crisis, President Barack Obama hasn't done much campaigning with Democratic candidates in the Nov. 4 election.
While his political duties have thus far been limited to raising millions for the party at dozens of fundraisers across the nation, Obama will, at long last, hit the hustings Sunday with Maryland Democrat Anthony Brown, who's running for governor.
The campaign rally for Brown, like the one Obama cancelled last week with Connecticut Governor Dannel Malloy following the news that a second Dallas nurse had contracted Ebola, will be in one of the safest Democratic areas anywhere in the U.S.: Prince George's County, a black-majority area abutting Washington. It's all about ginning up the base and keeping the Maryland governorship in Democratic hands.
Prince George's gave Obama 89.7 percent of its votes in the 2012 election. That was his fourth-best showing among more than 3,100 counties: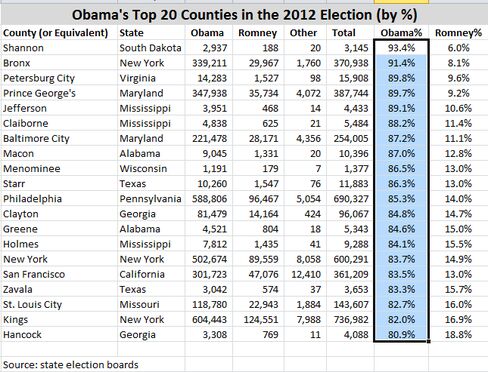 It was Obama's number one county in 2008, when he took 88.9 percent of the vote in the county. (These rankings exclude neighboring Washington, D.C., where Obama took more than 92 percent in 2008 and 91 percent in 2012.) Prince George's became a Democratic bastion as it absorbed black residents, many shifting over from Washington. African-Americans accounted for 65 percent of Prince George's population in 2013 compared with 13 percent in 1970, according to Census data. Blacks typically give more than 90 percent of their votes to Democrats.
Brown, Maryland's lieutenant governor, is opposed by Republican businessman Larry Hogan on Nov. 4. Hogan's namesake father was a congressman and then county executive from Prince George's before it became a Democratic stronghold.
Later Sunday, Obama will travel to his home state of Illinois to campaign for Democratic Governor Pat Quinn, who's in a close race with Republican challenger Bruce Rauner. The event will take place at Chicago State University, which has a predominantly black student body.
Before it's here, it's on the Bloomberg Terminal.
LEARN MORE