In Hunt for Ebola Czar, Obama Finds Insider Fits Best
Ron Klain, Biden's former chief of staff, is known for navigating complex political challenges.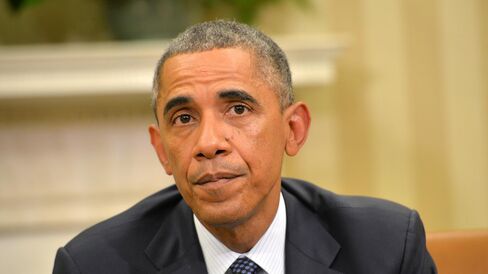 President Barack Obama's pick to lead the government's response to the Ebola virus was not an epidemiologist, or even someone who had a strong background in health issues.
"What does Ron Klain know about Ebola?," a reporter asked Press Secretary Josh Earnest today, according to one reporter.
"What we were looking for is not an Ebola expert but an implementation expert," he replied.
In Ron Klain, Obama has chosen for his Ebola "czar" a trusted White House adviser and known Washington operator who doesn't appear to have much (or any) experience managing the federal government's response to the outbreak of an infectious disease.
But it's a pick that signals the role Obama envisions: a single point of contact who will be less involved with the specific policy decisions and more involved with making sure the process, the people, the politics and the public relations are all lined up. In short, a manager. It also continues the administration's aversion to bringing in outside help to come in and run projects. Klain is an insider who knows the ways of this White House.
"I've known Ron Klain for over twenty years," Senator Charles Schumer, a New York Democrat, said in a statement. "He is smart, aggressive, and levelheaded; exactly the qualities we need in a czar to steer our response to Ebola."
After weeks of rejecting calls to appoint a czar (including from noted czar critic Senator John McCain), Obama tipped his hand that a pick was coming last night after a meeting with his top health and national security advisers.
"It may be appropriate for me to appoint an additional person," Obama told reporters in the Oval Office, adding that the team in place has been doing an "outstanding job." But his decision acknowledges that some of those aides -- specifically Lisa Monaco, the president's terrorism and homeland security adviser, Sylvia Mathews Burwell, the Health and Human Services secretary, and National Security Adviser Susan Rice -- are too slammed with their large portfolios to lead the nation's response to Ebola.
The administration has acknowledged lapses in handling the first U.S. cases and Obama said he's mobilizing the federal government to contain any spread of the virus within the country's borders. The key to stemming the outbreak is battling it in West Africa, he said. More than 4,400 people have died from Ebola this year, mostly in Guinea, Liberia and Sierra Leone.
Republican lawmakers have criticized the response by the U.S. Centers for Disease Control and Prevention after a Liberian man visiting Dallas died of Ebola last week and two nurses who treated him became the first people infected in the U.S. Some lawmakers have called on Obama to appoint a czar.
Officially Klain is being called the "Ebola Response Coordinator," according to a White House official. He'll be reporting directly to Monaco and Rice. White House aides have long pointed to his to ability to deal with complex political issues as a primary reason why he's so well-liked and, as one White House official acknowledged, this is certainly that and more. Since leaving the White House, Klain, a lawyer by trade who clerked for Supreme Court Justice Byron White, spent time with O'Melveny and Myers LLP before taking senior roles with Revolution LLC and Case Holdings, two companies founded and run by former AOL chief executive Steve Case.
While Klain has been in the private sector since leaving his position as chief of staff to Vice President Joe Biden in 2011, he's never been far from the administration's orbit, helping throughout the 2012 campaign and regularly being floated as a possible chief of staff to Obama during his final two years in office.
While in the administration, he helped oversee the implementation of the stimulus -- about as complex a political and policy thicket one could confront. He's also been chief of staff to Vice President Al Gore (and played a central role in the legal battle over the 2000 election recount Gore ultimately lost) and Attorney General Janet Reno. He's served as chief counsel for the Senate Judiciary Committee. He was the staff director of the Senate Democratic Leadership Committee. In short, he's extremely plugged in throughout the federal government and on Capitol Hill -- something that is extremely attractive to an administration certainly struggling with the latter and lately having trouble with parts of the former.
"It may make sense for us to have one person, in part just so that after this initial surge of activity we can have a more regular process," Obama told reporters Thursday night. "Just to make sure that we're crossing all the t's and dotting all the i's going forward."
With assistance from Toluse Olorunnipa and Angela Greiling Keane
Before it's here, it's on the Bloomberg Terminal.
LEARN MORE