Kentucky, Where the Immigration Reform Debate Goes to Die
Alison Lundergan Grimes's much-bashed "amnesty" ad is yet another example of how toxic immigration reform has become.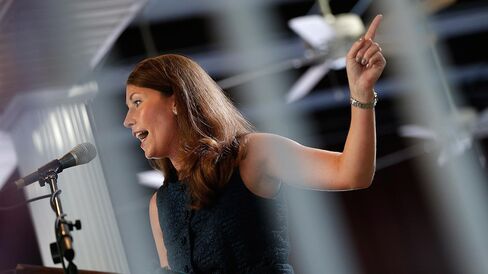 The savvy class has given up on Alison Lundergan Grimes's campaign in Kentucky. It was inevitable, probably, as the Democratic scion and secretary of state was attempting to persuade Kentucky voters to junk the likely next Republican majority leader in a state that gave Mitt Romney a 23-point landslide over Barack Obama. But the hits have come every day this week – first Chuck Todd's insistence that Grimes "disqualified" herself by refusing to admit that she voted for the president, then the DSCC cutting bait and moving to Georgia, and then the furor over an ad titled "Largest Ever." In it, Grimes reminded voters that, in 1985 and 1986, freshman Senator Mitch McConnell had backed his president and party on an immigration amnesty.
The ad, posted on Grimes's campaign YouTube page eight days ago, did not receive much national attention until Vox's Dara Lind grabbed it. The ad, Lind noted, was unlisted – it had been covered by the Louisville Courant but missed by the people with 202 area codes. "Grimes is running this ad while continuing to support a path to citizenship for unauthorized immigrants," reported Lind. "In fact, McConnell's been attacking Grimes for her support for the 'Obama amnesty' — and she's put up a web ad of her own defending herself from those attacks."
Since Lind's post, Grimes has received nothing but flack. "It's deeply troubling that Grimes would stoop this low in order to try to defeat McConnell," said MoveOn's political director Ilya Sheyman in a Tuesday statement, "and she needs to take this offensive advertisement off the air immediately." Politico's Seung Min Kim has more on the liberal backlash, including the executive director of America's Voice saying that "Democrats should leave it to Republicans to be the anti-immigrant party."
Forgotten in all of this, to the great benefit of Republicans, are the bogus attacks that Grimes was trying to deflect. This ad was a response to a Kentucky Opportunity Coalition spot that dropped last month, accusing Grimes of backing "food stamps, unemployment, even Medicare" for illegal immigrants via an amnesty plan.
The KOP, as Paul Blumenthal has reported, is effectively a spinoff of American Crossroads. This spot was a fresh example of the Karl Rove network ditching Rove's own advice about Republican outreach and immigration reform, and deploying oogah-boogah to warn voters that Democrats wanted to give food stamps to criminals. apart
Laura Meckler's piece about this pronounces "politics on both sides" of the immigration air war. That's one way to put it. Pro-immigration reform conservative groups are all over the air, trying to defeat the Democratic reformers and replaced them with Republicans who opposed last year's compromise bill. They're doing it with ads that portray anything less than mass deportation as an endless giveaway for border-crossers. The point of all this? Take it away, Mickey Kaus:
https://twitter.com/kausmickey/status/522188084914307072
Before it's here, it's on the Bloomberg Terminal.
LEARN MORE