Fear-Mongering Index: Responses to the Ebola Outbreak
From the rational to the imaginative, here's the full range of Ebola reactions.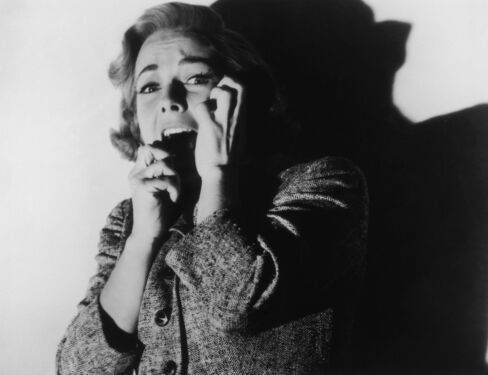 Another scary turn in the Ebola crisis emerged Wednesday: A second Dallas health care worker, who recently flew to Cleveland and back, has tested positive for the disease. The Centers for Disease Control is now reaching out to the individuals on the plane with that health care worker, who wasn't showing symptoms on the flight. President Obama canceled a planned fundraising trip to meet with his Cabinet.
Other responses haven't been as measured. This list isn't comprehensive, but it gives an idea of the spectrum of responses, from Senator Mitch McConnell's surprising faith in the CDC to the belief that Ebola is a hoax concocted to trick people into getting their flu vaccine.
1. Mitch McConnell
The Kentucky senator was one of the rare Republicans who deferred completely to the CDC on how to handle the Ebola outbreak. "I think they should have anything they want," McConnell told MSNBC on Wednesday.
McConnell also avoided taking a side on the debate over travel bans between the U.S. and West Africa, an idea that has been supported by some lawmakers but not by public health officials. "I'd leave that up to the CDC to determine what the techniques ought to be in trying to contain the disease," he said. "I think we ought to listen to whatever the CDC thinks they need ... I think we need to follow the advice of the experts."
2. Rick Perry
Texas Governor Rick Perry, a potential 2016 presidential candidate, has tried to bring a calming presence to the crisis centered in Dallas and his state.
In past statements, he's cautioned against overreacting to the potential spread of Ebola. Last week, he opposed travel bans between the U.S. and African countries suffering outbreaks, saying that a screening process for travelers "makes better sense." He's also created a task force in Texas to study the state's response to infectious disease.
"I want to make it really clear that this isn't an outbreak. This is one case," Perry said on Fox News on October 1, as he praised the CDC for being a "very willing participant and partner in this."
As additional cases have been reported in Texas this week, Perry has been traveling in Europe on a previously scheduled economic development trip to England, Germany, Poland and Ukraine.
3. Hillary Clinton
Hillary Clinton, who is contemplating a 2016 Democratic presidential bid, has been measured in her remarks so far on Ebola. During a speech to a medical device association conference in Chicago on October 8, she noted the modern-era's "enhanced mobility" of the global population as a risk factor. "We know that we are in a real fight," she said of Ebola.
4. National Nurses United
Surveys and anecdotal evidence suggest that nurses and hospitals aren't as prepared as the CDC has suggested. The National Nurses United released a survey of 2,200 nurses on Sunday, which found that 85 percent said their hospital hadn't provided proper training on how to handle the disease, and 76 percent said their hospital didn't have a proper procedure for admitting patients.
The union also found that protocols at the hospital where Thomas Eric Duncan, the first U.S. Ebola patient who died of the disease earlier this month, were constantly changing.
"The protocols that should have been in place in Dallas were not in place, and that those protocols are not in place anywhere in the United States as far as we can tell," National Nurses United Executive Director RoseAnn DeMoro said Tuesday night, according to CNN.
5. Thom Tillis
The North Carolina Senate candidate joined several politicians by calling for an immediate travel ban between the countries hardest hit by Ebola and the U.S. in a statement earlier this month:
Keeping the American people safe must be our nation's top priority, and the White House should immediately ban travel from from Liberia, Sierra Leone and Guinea to contain the spread of Ebola. It makes absolutely no sense to risk more cases of Ebola in the United States by continuing to allow travel from Ebola-inflicted countries. It's time for Washington to take action to protect the American people.
His opponent, Senator Kay Hagan, said that travel bans "may be one tool we can use, but they should be part of a broader strategy because simply sealing the borders to these countries won't make the crisis go away."
6. Rand and Ron Paul
Rand Paul, a potential 2016 presidential candidate, has sounded almost alarmist, suggesting government officials have downplayed the threat. "I think because of political correctness we're not really making sound, rational, scientific decisions on this," the Kentucky senator said on "The Laura Ingraham Show" earlier this month. "It's a big mistake to underestimate the potential for problems worldwide."
Paul also expressed concern about President Barack Obama's plan to send troops to help fight Ebola in West Africa. "You also have to be concerned about 3,000 soldiers getting back on a ship," he said. "Can you imagine if a whole ship full of our soldiers catch Ebola?"
His father, also a doctor, has been more tempered. In a weekly column posted Sunday on the Ron Paul Institute for Peace and Prosperity, the three-time former presidential candidate and former Texas congressman encouraged calm. "Despite all the hype about Ebola generated by the media and government officials, as of this writing there has only been one preliminarily identified case of someone contracting Ebola within the United States," the elder Paul wrote. "Ebola is a dangerous disease, but it is very difficult to contract."
7. Matt Drudge
The owner of the conservative news site, The Drudge Report, tweeted:
8. Chris Brown
The one-time music icon, now better known for his controversies, chimed in this week with his own take on the origins of the Ebola outbreak:
https://twitter.com/chrisbrown/status/521556459696312321
Brown was roundly mocked for his tweet by several news outlets, but a surprising number of Brown's followers actually agree with him, as does at least one member of the anti-Semitic Nation of Islam.
9. InfoWars
A reporter for InfoWars, the conservative news site known for promoting far-fetched theories, Joe Biggs claimed he was harassed by law enforcement officians in McAllen, Texas while reporting on the connection between the Ebola outbreak and the U.S./Mexico border. By "harassed," he meant that an official allegedly said he pulled Biggs over because he and his cameraman were behaving suspiciously (by driving around the border in circles). "We have more things to worry about, they need to keep their eyes on the border and watch for these illegals coming across that could possibly have Ebola, instead of harassing journalists," Biggs said.
The real government plot, according to Biggs, is an attempt to scare people into getting a flu shot. "You know, it's funny that this Ebola thing comes around flu season," Biggs said, going on to argue that the government is trying to convince people to take a flu shot to reduce the number of Ebola scares caused by feverish people in public. "They want to ramp up that fear and get you to take those vaccines that you normally wouldn't take because you think your life is so close to ending."
But InfoWars is also offering solutions. "Keep your eyes open, be smart, wash your hands, take care of your family, and just overall, do research for yourself," Biggs advised. "Don't believe everything you see on TV."
Before it's here, it's on the Bloomberg Terminal.
LEARN MORE