Iowa Governor's Popularity Could Actually Hurt Joni Ernst's Chances
Turnout in the Senate race could be influenced by a landslide in the governor's race.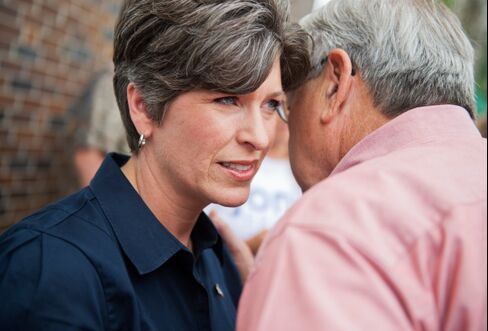 While their names will appear in two distinct sections of the Iowa ballot, the political fortunes of Governor Terry Branstad and GOP Senate nominee Joni Ernst will be deeply intertwined.
The good news for Ernst is that Branstad is ahead in his re-election bid. The bad news for Ernst is that he's winning so big. A Bloomberg Politics/Des Moines Register Iowa Poll shows the incumbent Republican governor leading his rival by 15 percentage points, a margin comfortable enough that it could depress turnout among Republicans and independents mostly interested in the governor's race. That isn't likely to be many, but in one of the closest Senate races this election cycle, every vote could matter.
Ernst's Democratic opponent, Bruce Braley shouldn't count on much help from Jack Hatch. Less than a month before the election, 27 percent of likely voters don't even know the name of the Democratic nominee for governor.
In another interesting wrinkle for the Senate race, roughly one fifth of likely voters backing Braley have indicated that they are planning to split their ticket and also vote for Branstad. That's about four times as many Ernst supporters who plan to back Hatch.
A warning signal for Braley is the fact that Branstad, who is seeking a record sixth term, scores one of his highest levels of support in Iowa's 1st Congressional District, the same area that Braley has represented in northeast Iowa since 2007.
Before it's here, it's on the Bloomberg Terminal.
LEARN MORE