Harkin Steak Fry Tab for Jet-Setting Clintons: $50,000
The only bill larger than the travel expenses was the one for the steak (and chicken).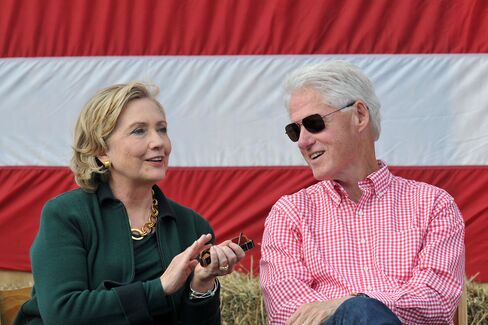 Only the steak (and chicken) cost more than shuttling the Clintons to Democratic Senator Tom Harkin's annual steak fry last month in Indianola, Iowa.
The Harkin Steak Fry 2014 committee spent more than $50,000 for Bill and Hillary Clinton's jet travel to Iowa, according to a disclosure form filed Tuesday. The payment was made to Ronkonkoma, New York-based Executive Fliteways Inc.

Also on Bloomberg Politics: Ben Carson's Longshot Presidential Bid Suddenly Looks A Lot More Realistic
On its website, the flight company says it's one of the "largest independently owned and operated charter companies in the country with fifteen jet aircraft under management."
The Clinton transportation bill was the second-largest single expense for the event that was hosted by Iowa's retiring junior senator. Only the $90,225 spent on food from the Iowa grocery store chain Hy-Vee cost more. For the cost of a $30 ticket, attendees could choose grilled steak or chicken, baked beans, potatoes and a host of other sides. Sodas and tea were free, and attendees were required to buy their own beer.
Harkin, who is retiring, has sponsored the steak fry for more than three decades. While designed to build the state party's grassroots, the event has evolved into a popular stop for aspiring Democratic presidential candidates.
Hillary Clinton, a potential 2016 candidate, and her former president husband were the big draws for this year's mid-September gathering of thousands of Democrats.
"It's great to be back, but let's not let another seven years go by," Clinton, who had last been in Iowa after finishing third in the January 2008 state caucuses, said that day.
It's a well-established fact that Hillary Clinton isn't a cheap date. She often gets $200,000 or more per public speech and earlier this year she famously remarked that she and her husband were, thanks to legal bills, "dead broke" when they left the White House in 2001.
The Clinton steak fry travel bill was applied to an event that raised about $315,000 and spent about $217,000. After expenses are paid, Harkin typically donates the remaining money to the Democratic Party of Iowa and to TomPAC, a political action committee he has to help other candidates.
Also on Bloomberg Politics: Mark Halperin's Daybook: Obama On the Trail
Before it's here, it's on the Bloomberg Terminal.
LEARN MORE