CDC Chief: 'We Have to Rethink the Way We Address Ebola'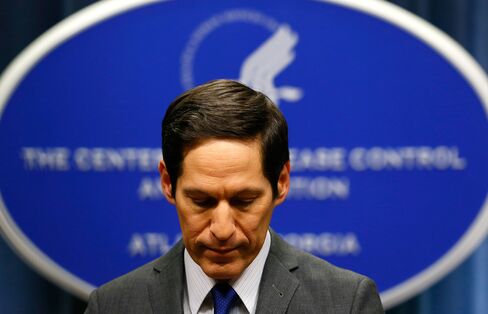 U.S. and local health officials want to set up dedicated hospitals in each state for Ebola patients, part of a new emphasis on safety for health-care workers after a nurse caring for an infected patient in Dallas tested positive for the virus.
The U.S. Centers for Disease Control and Prevention is also reconsidering its existing infection control protocols and will boost health-worker training with a series of calls and online seminars, officials said yesterday.
"We'd like to have at least one hospital in every state that does feel they could manage a patient from start to finish," said Abbigail Tumpey, the CDC official in charge of the education outreach. So far, the new system is only in the discussion stage, and one issue is that there are currently only four U.S. hospitals with top-level bio-containment units.
In the meantime, the agency will "double down on training, outreach, education and assistance," to keep the disease under control in the U.S., CDC Director Tom Frieden said in a conference call yesterday. "We have to rethink the way we address Ebola infection control. Even a single infection is unacceptable."
All hospitals must be prepared to identify potential Ebola patients, even if they don't handle long-term care for infected individuals, Tumpey said in a telephone interview. Identifying a hospital in each state is "going to be a long process," she said. "It's not happening overnight."
Bio-Containment
Hospitals with the bio-containment units include Emory University Hospital in Atlanta, which cared for U.S. missionaries Kent Brantly and Nancy Writebol, and Nebraska Medical Center in Omaha, now caring for Ashoka Mukpo, a TV cameraman infected in West Africa.
All the medical staff in Dallas who treated Ebola patient Thomas Eric Duncan will now be monitored, along with a person who had close contact with the infected nurse, according to Frieden. Health workers were initially considered low risk for infection because they were wearing protective gear, he said.
The nurse in Dallas became the first person to contract Ebola within U.S. borders after contracting the virus from Duncan, who died Oct. 8. She had extensive contact with Duncan, and wore protective gear at all times.
The CDC is stepping up training after the nurse's infection raised questions about whether hospitals are sufficiently prepared. Physicians and nurses interviewed by Bloomberg News have said they are underfunded and undertrained.
'A Lot Scarier'
"The events in Dallas in the last 24 hours have made it a lot scarier for front-line health-care workers," said Tumpey. "We want to make sure they feel fully prepared and confident."
The CDC is arranging numerous calls and online seminars to train health workers in screening and care for infected patients, including the use of personal protective equipment and how to set up an isolation room.
To handle the increased training, the agency has set up a team of infection control experts and communication specialists, Tumpey said in a telephone interview. It will coordinate with professional associations and state and county health departments to increase awareness of Ebola and ability to respond rapidly.
Even so, the CDC "is not a regulatory agency," Tumpey said, which means the agency cannot compel hospital staff to watch the training videos. The agency also cannot force a hospital to transfer a patient to another facility.
Spotter System
If another hospital has a patient, "we would make sure they understand what it'd look like long term, and if they didn't feel like they could handle a patient, we would help them figure out how to safely transfer the patient," she said.
Health officials haven't yet pinpointed how the Dallas nurse was infected, according to Frieden.
In Nebraska, where NBC cameraman Mukpo is improving and can now sit up, eat and speak normally, Shelly Schwedhelm, nursing director of the Biocontainment Unit at Nebraska Medicine, said there is a spotter system to help prevent lapses in protocol.
Every time health-care workers put on or take off protective gear, a spotter is there to make sure they do it correctly, Schwedhelm said in a webcast.
She said that practice is one of the main reasons the hospital has staved off transmission after caring for two patients with Ebola. Nebraska Medicine practitioners are communicating with other hospitals to help them prepare to care for highly infectious patients.
I "feel like any hospital could potentially care for an Ebola patient, what's missing in many hospitals is the level of confidence and assurance in protocols and processes," Schwedhelm said. "I think meticulous practice of taking off equipment is what may be missing."
Frieden declined to give further details on how many individuals in Dallas have been added to the tracing efforts and whether they would be quarantined.
So far no one else has exhibited any symptoms of the virus, which include body aches and fever. There is no known cure or vaccine for Ebola.
Before it's here, it's on the Bloomberg Terminal.
LEARN MORE